Tampa Bay's HomeTeam 100
11-20
By RODNEY PAGE, KELLY PARSONS & BOB PUTNAM | Times Staff Writers
Produced by JOSIE HOLLINGSWORTH
DOUGLAS R. CLIFFORD | Times
Friday, July 17, 2015
Our fourth annual countdown of the top 100 football players in Tampa Bay — consisting of athletes who attend a public or private school in Pinellas, Hillsborough, Pasco or Hernando counties. Past performances — spanning the fall, spring and summer — and promise of big things to come are all taken into consideration. Today: players 11 through 20.
11. Tre McKitty, Tampa Catholic
Position:

Receiver/defensive back
Year:

Junior
Height, weight:

6-4, 220

11. Tre McKitty, Tampa Catholic
Tampa Catholic might have some unknowns on defense this year, returning just four starters from last year's squad. But in January, coach Mike Gregory got the kind of surprise he needed when McKitty walked through the school doors.
McKitty — a Miami commit who was recruited as a tight end but will likely play receiver and defensive back for the Crusaders — transferred last semester to Tampa Catholic from Wesley Chapel.
"We just got back from break and there's a 6-4 kid walking down the hall. He said, 'Hey, Coach, nice to meet you,' and that's just kind of how it went," Gregory said this spring. "Obviously it's a good get, but he's got to earn his spot."
And after a dominant performance in the Crusaders' spring game, it appears he has. McKitty had some monster tackles on defense in Tampa Catholic's win against River Ridge. And though McKitty, who recorded 138 yards receiving, 41 tackles and 3.5 sacks last season for the Wildcats, has talents all over the football field, his presence might especially be felt on a Tampa Catholic defense that needs the help.
Editor's note: McKitty transferred to IMG Academy, which is not one of the schools in our coverage area, after this list was compiled.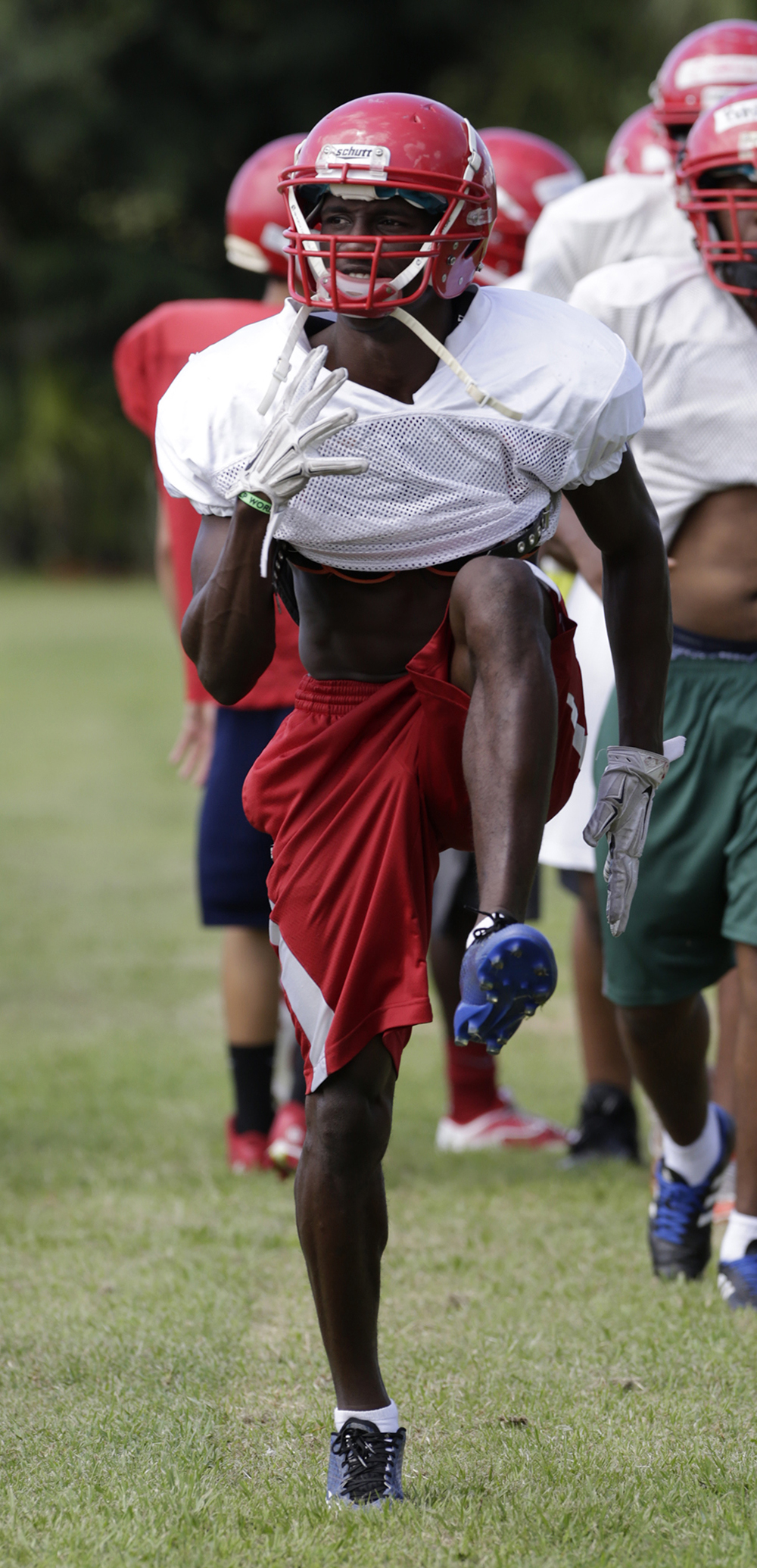 12. KJ Sails, East Bay
Position:

Safety
Year:

Senior
Height, weight:

5-11, 170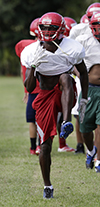 12. KJ Sails, East Bay
Why we ranked him:
Sails has had a busy summer. That's how it goes when you are one of the most sought-after safeties in the area. Sails said this summer alone he has visited UCF, Miami, Kentucky, Cincinnati, Clemson, North Carolina and Georgia. He plans on making visits to Wisconsin and Iowa in the near future. While he hasn't decided on a school, he plans to make his decision before the start of football season. What also makes Sails more attractive to colleges is that he plans to graduate early. Sails has high hopes for himself and his team this fall. His confidence was bolstered by an interception in East Bay's spring game. "It's a team game, I know that, but I also want to set the school record for interceptions in a season, which is eight," Sails said. "It's going down. And I also want to lead my team to a district championship and into the playoffs.''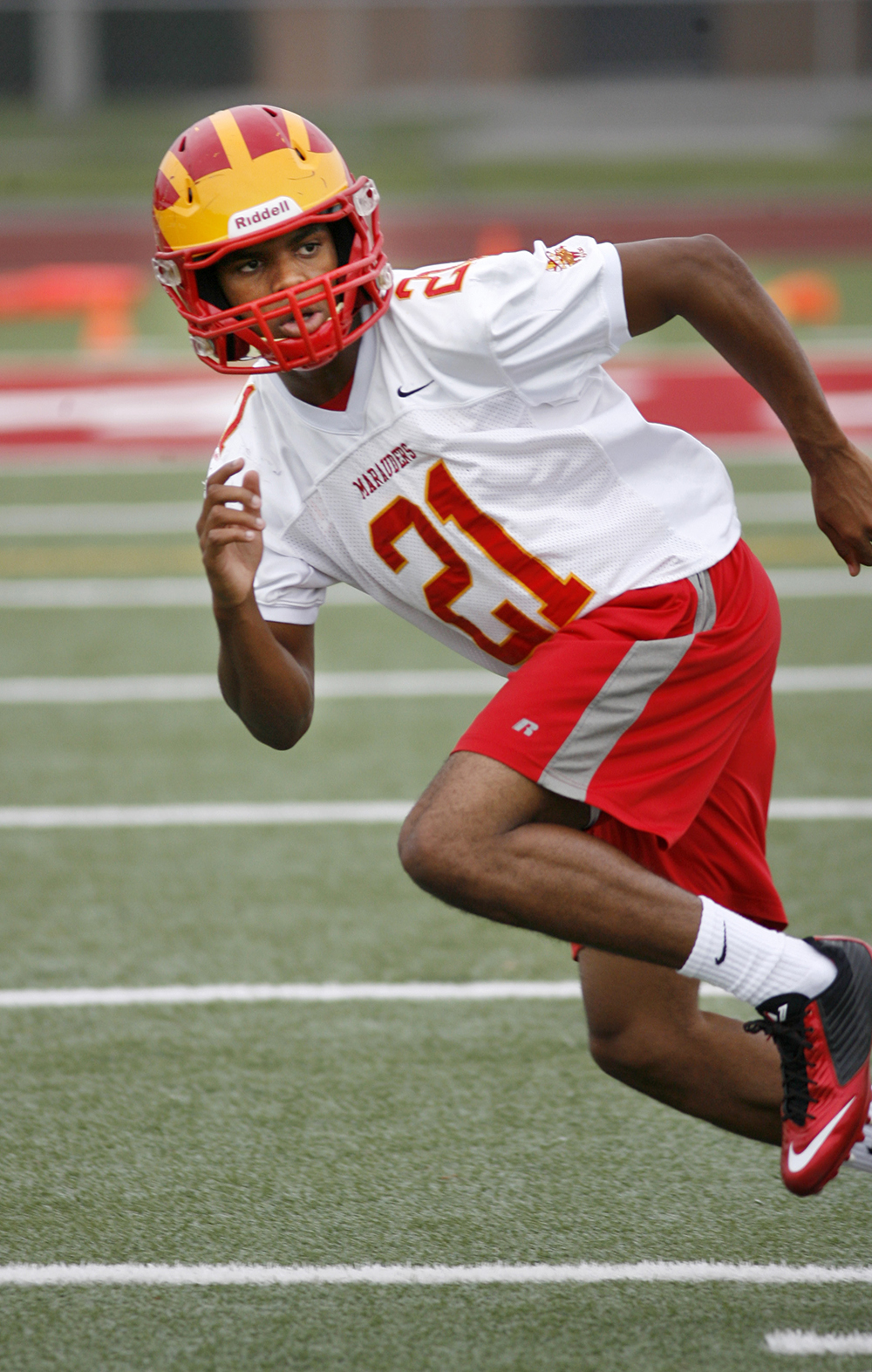 13. CJ Cotman, Clearwater Central Catholic
Position:

Running back
Year:

Junior
Height, weight:

5-10, 165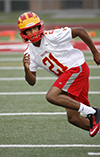 13. CJ Cotman, Clearwater Central Catholic
Five things to know about Cotman:
1. Cotman, ranked as a four-star recruit by 247Sports, is an all-purpose back who is a threat to score whenever he touches the ball. Last season, he had 766 yards rushing, 576 receiving and accounted for 23 touchdowns.
2. Cotman has been playing football since he was 5 years old. At Azalea, he started showing his big-play potential by scoring 28 touchdowns one season.
3. Football runs in the family. Cotman's father, Cedric Taylor, played at Northeast. His uncles, Derrick and Eric Jelks, were former standouts at St. Petersburg Catholic.
4. The biggest thing Cotman is trying to avoid this season is injuries. For the past two seasons, he has been hobbled by a sprained ankle and a strained shoulder. Cotman also sat out the spring game for precautionary reasons after sustaining a concussion. He said he has been working in the weight room to get stronger and has added 5 pounds to his frame.
5. Cotman says he has 10 offers, the biggest coming from Boston College, FSU and Miami. He said he could wait until signing day of his senior year before making a decision.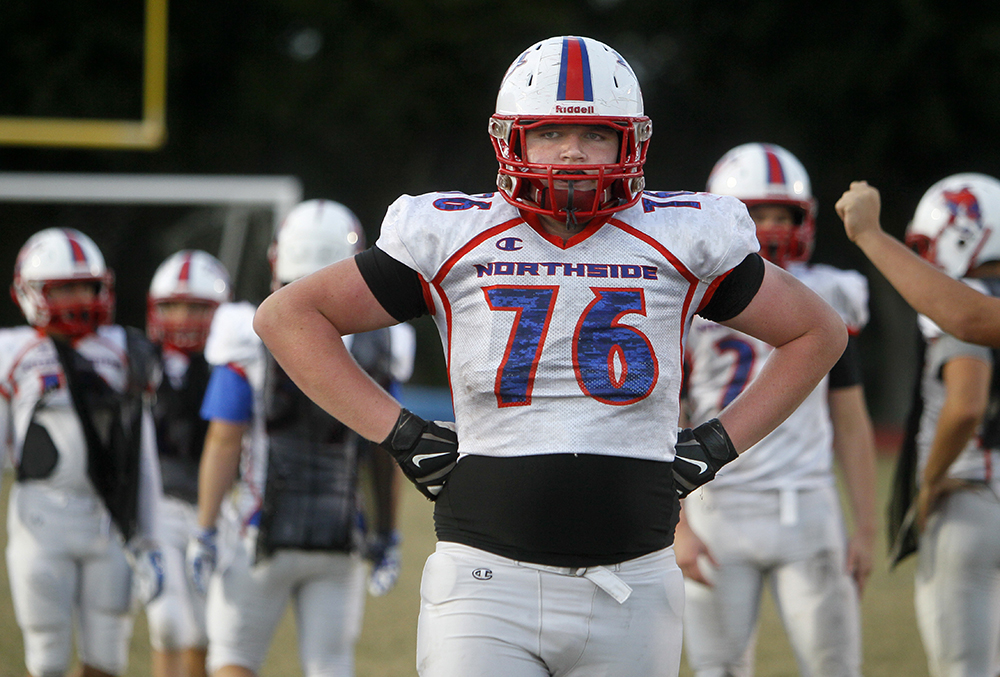 14. Dillan Gibbons, Northside Christian
Position:

Offensive lineman
Year:

Junior
Height, weight:

6-5, 310

14. Dillan Gibbons, Northside Christian
Why we ranked him:
Gibbons has been on college coaches' radars since he was a freshman at St. Petersburg Catholic. He transferred to Palm Harbor University briefly but left for Northside Christian just before the start of his sophomore year. He was a big reason the Mustangs went 8-3 and made their first playoff appearance since 2006. Gibbons, who is the younger brother of USF lineman Reilly Gibbons, committed to Notre Dame in April. During the offseason he was named a Class 2A first-team all-state selection and was named a sophomore All-American by Tom Lemming of CBS. Gibbons has a combination of size and toughness that will make him hard to deal with for the next two seasons.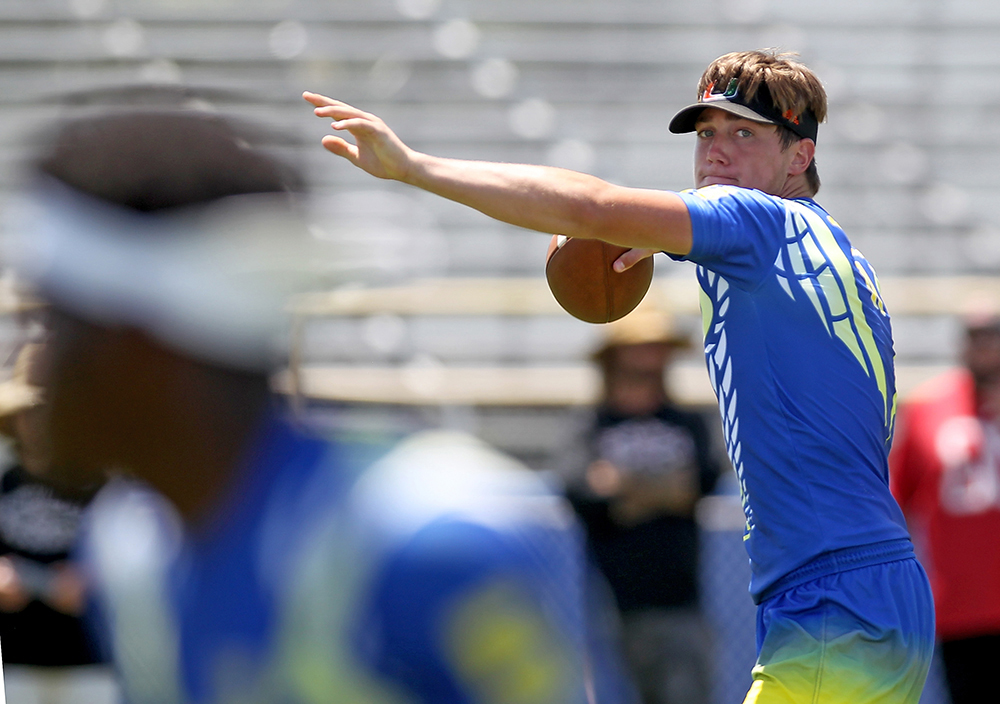 15. Cade Weldon, Jefferson
Position:

Quarterback
Year:

Junior
Height, weight:

6-3, 200

15. Cade Weldon, Jefferson
A transfer from Berkeley Prep, Weldon thrived in his first season with the Dragons, throwing for 2,103 yards and 20 touchdowns. Those numbers helped him get on the recruiting radar and he now has seven offers, including ones from Kentucky, Miami and South Carolina.
How do you think your first season and offseason has gone at Jefferson?
"It's gone real well, just hearing from our coaches the gains we've made as a team from last summer to this summer is like night and day. We've made a lot of improvements so I'm excited."
What was the adjustment like coming from Berkeley Prep to Jefferson?
"Jefferson's different, but I love it. It's big-time football here. It's fun."
The receivers are young but talented. What do you like about them?
"We've got some young dudes who are going to do some big things this year. All our guys have big-time potential and should have breakout seasons."
How much does your dad (former FSU and Buccaneer quarterback Casey Weldon) help and critique your game?
"It's good because here I have Coach (Jeremy) Earle, I have Coach (John) Kaleo and when I go home I have my dad. I'm getting it from everyone, which works out well."
When do you plan to make your college decision?
"I've got time, so I'll wait until after this season. Right now, it's just focusing on the team."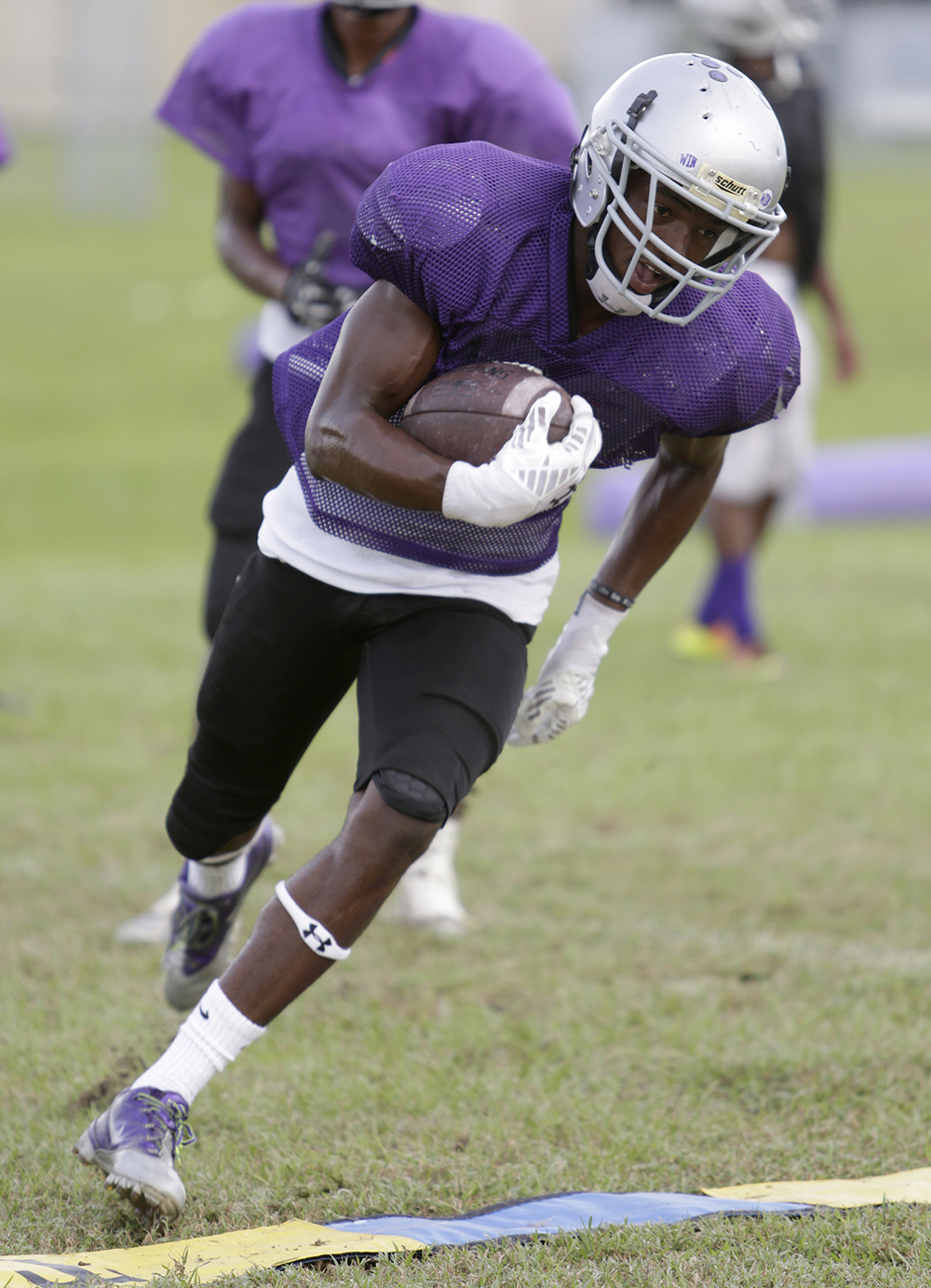 16. Terence Williams, Spoto
Position:

Athlete
Year:

Senior
Height, weight:

6-1, 185

16. Terence Williams, Spoto
Five things to know about Williams:
1. Williams truly played all over the field and was a big piece of Spoto's breakout year last season, recording 377 yards rushing, 288 yards receiving, four total touchdowns, and 38 tackles. On special teams, he averaged 30 yards per punt — with a long of 42 — and averaged 19 yards per kickoff return.
2. Williams is the cousin of former Jefferson quarterback Deiondre Porter, who led the state of Florida with 4,698 total yards and 53 touchdowns his senior season before signing with the University of Florida. Porter and Williams' mothers are sisters.
3. Williams used to attend Jefferson and was actually the backup quarterback behind Porter in 2013, completing five passes for 160 yards and rushing for 137 more.
4. The rising senior has 14 college offers, including ones from UCF, USF, Duke and Louisville. Williams verbally committed to the Cardinals on Twitter this summer, but retracted it in order to take some official visits before making the big decision, Spoto coach Dale Caparaso said.
5. Williams is being recruited as a defensive back and a slot receiver, but he'll play cornerback and quarterback for the Spartans this fall. Caparaso said he thought about playing Williams under center last season, but instead went with the now graduated Kevin Hobley to allow Williams to make more plays on offense.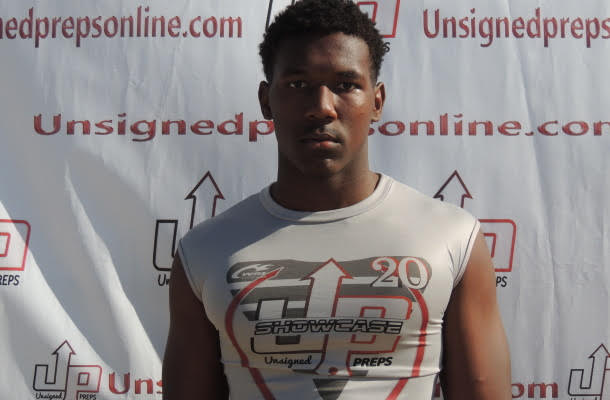 17. Zachary Carter, Hillsborough
Position:

Offensive/defensive lineman
Year:

Junior
Height, weight:

6-5, 240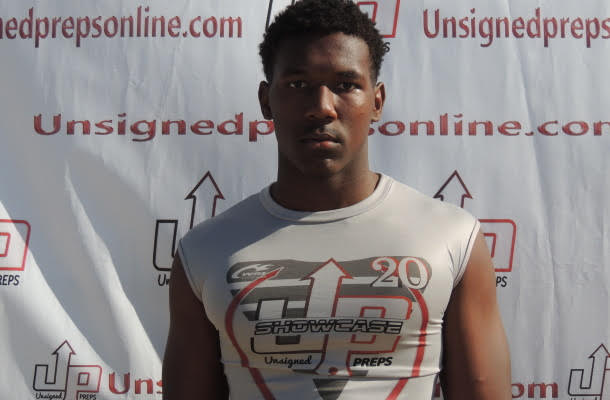 17. Zachary Carter, Hillsborough
Why we ranked him:
Carter started the final five games of his freshman season as an offensive tackle. Last year, he played both ways on the line and shined as a defensive end, registering 73 tackles and three sacks. "I feel like last year was my breakout season because I wasn't really known and I was able to put my name out there with the way I played," he said. Carter's stock has soared in the past six months. He is ranked as a four-star prospect by 247Sports and has 15 offers from schools, including Auburn, Clemson, Florida and Penn State. This season, Carter is making a switch on offense, moving from tackle to tight end. He will remain a defensive end on the other side. "I just want to become the best defensive end in the state and try to help our team win a state title," Carter said.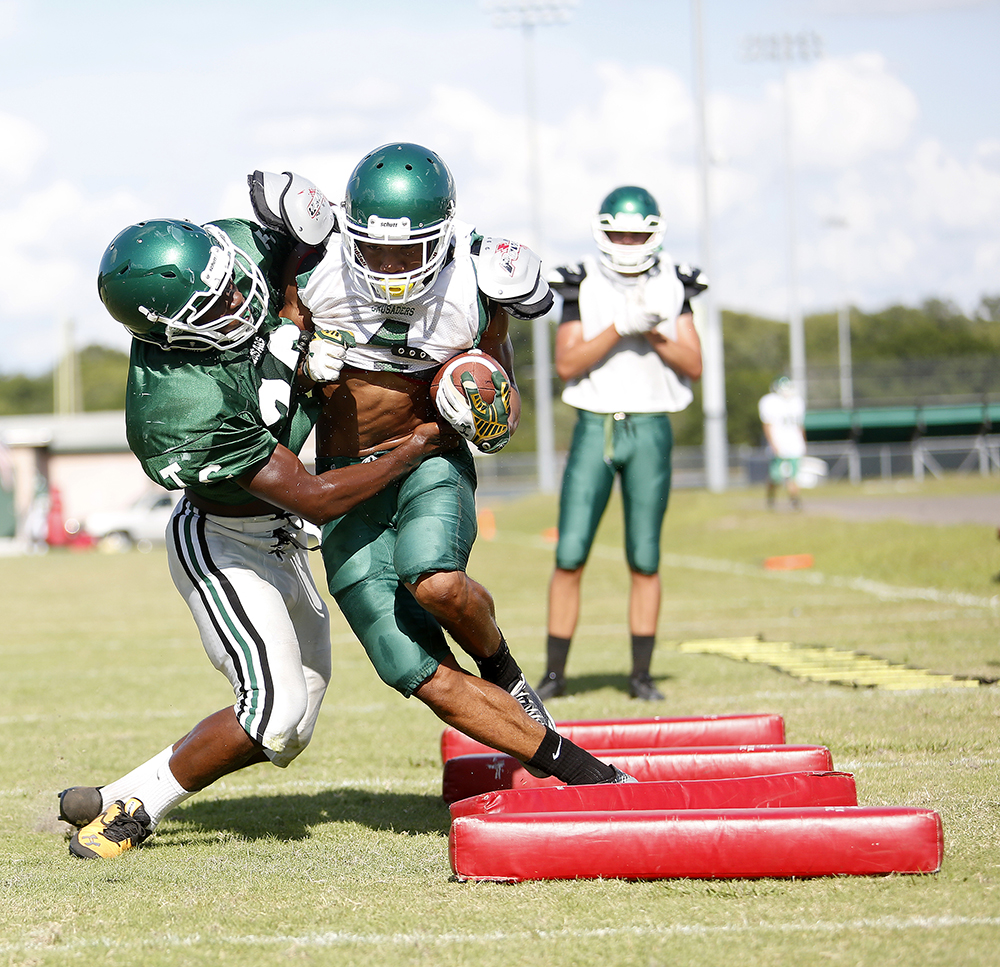 18. Devan Barrett, Tampa Catholic
Position:

Athlete
Year:

Junior
Height, weight:

6-1, 190

18. Devan Barrett, Tampa Catholic
Why we ranked him:
Barrett kind of came out of nowhere last year, but he contributed to the Crusaders in a big way, finishing the season with 441 yards rushing and a team-leading eight touchdowns while recording 38 tackles and five passes defended on defense. Barrett's recruitment has blown up, and he now boasts 12 offers, including ones from Florida, UCF, Miami and USF. Thinking back to what he did last year, Tampa Catholic coach Mike Gregory is excited for what's to come from his prized athlete. "He got hot late, I think is what happened. When we lost the other pieces of our offense, he was the piece that really needed to step up, and he did," Gregory said. "He's going to be a main piece in our offense and making that thing go."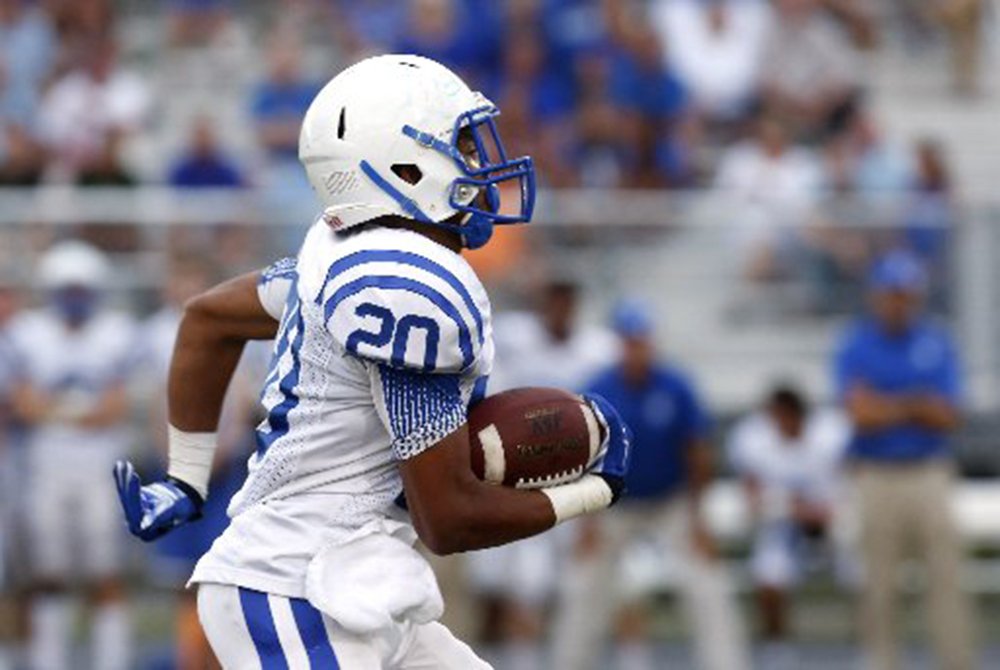 19. Malik Davis, Jesuit
Position:

Running back
Year:

Junior
Height, weight:

5-11, 180

19. Malik Davis, Jesuit
By the numbers:
2,223 - Career rushing yards in his first two seasons at Jesuit, 40 percent of the way toward Ray Ray McCloud III's all-time Hillsborough County rushing record
1,728 - Rushing yards as a sophomore
157.1 - Average rushing yards per game
47 - Davis' rushing yards on the game-winning drive in the Tigers' come-from-behind win against rival Tampa Catholic on Nov. 7
19 - Total touchdowns in 2014, 18 on the ground and one through the air
9 - Games last season with at least 100 yards rushing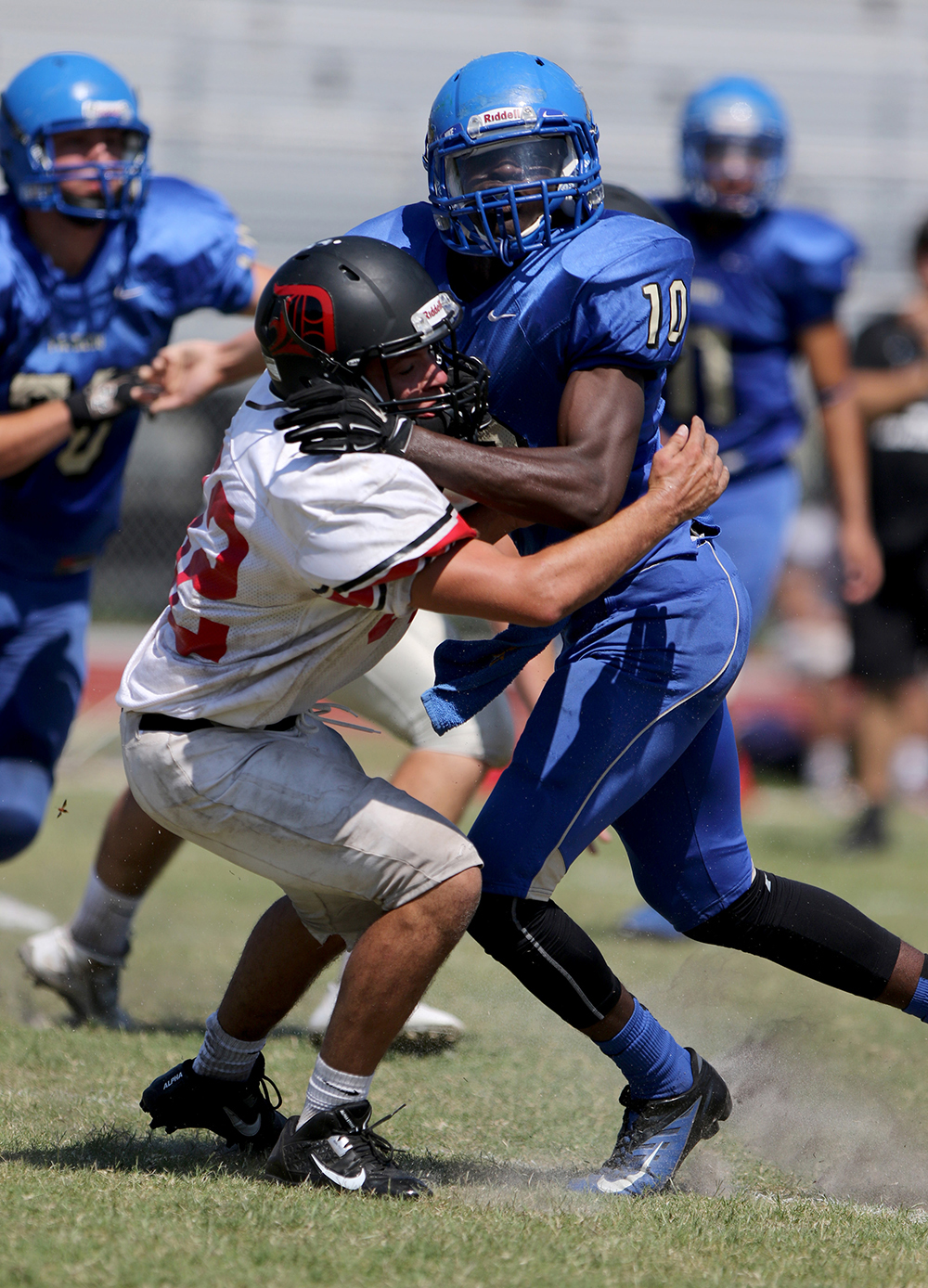 20. Brandon Drayton, Largo
Position:

Receiver/defensive back
Year:

Senior
Height, weight:

6-3, 180

20. Brandon Drayton, Largo
Why we ranked him:
Drayton has played on varsity all four seasons. Last year, the two-way standout had his best season with 10 catches for 254 yards and two touchdowns on offense, as well as 60 tackles and two interceptions on defense. In the spring, he continued to excel, hauling in a 40-yard reception against Pinellas Park. He'll team with Dakarai Allen to form one of the best tandems on both sides of the ball. Drayton currently has 19 offers from schools, including Louisville, Miami and UCF. "Brandon has really come into his own in the last year, especially on the defensive side. He has a physical presence and an intimidation factor back there in the secondary, which is big for us," Packers coach Marcus Paschal said.
All photos: Times files