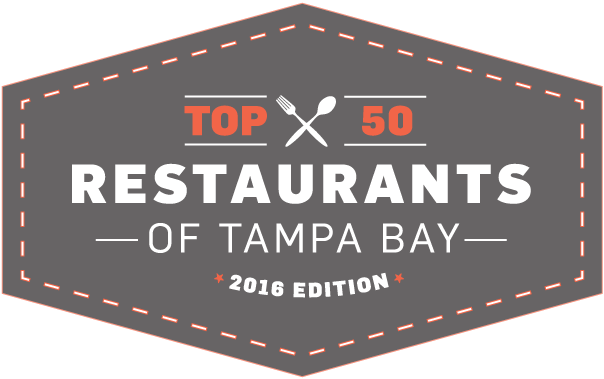 Top 50 restaurants of Tampa Bay 2016 edition
Eve Edelheit | Times
It was the year foods arrived in cute mason jars. It was the year Tampa Bay diners became comfortable uttering the word "charcuterie." And it was the year that St. Petersburg started kicking Tampa's rear with innovative new concepts and sheer volume of eager customers.
In a very strong year for Tampa Bay restaurants, we witnessed a raft of appealing new chain concepts land (Besito, Doc B's, Tom+Chee, etc.); we saw celebrity chefs begin to stake out territory (Marc Murphy, the guys at Locale); we got our first legit ramen house. The downsides? Prices went up (a $14 glass of wine no longer spooks the horses), parking got scarcer and the elevated level of play required more hustle for restaurants to distinguish themselves.
Fifty restaurants (well, 52) sounds like a lot until you start making your list. Worthy hotel restaurants like Maritana Grille and Armani's needed to be shelved to make room for innovative independents. Categories like vegetarian and Indian were jettisoned in favor of those with more dynamism. It certainly is a testament to the rapid progress that has been made in our restaurant scene. Here are Times food critic Laura Reiley's best, ranked within their category, with the top 10 overall indicated below.
Did we miss your favorite restaurant? Leave us a comment at the bottom of the page. And share pictures from your favorite places to dine in the Tampa Bay area with the tag #top50tampabayeats.
PRICE KEY:
$
Most entrees less than $10
|
$$
Most entrees in the $20s
|
$$$
Most entrees in the $30s
|
$$$$
Most entrees more than $40