How Trump bought a mansion, bucked Palm Beach
and made the Sunshine State his second home.
This story contains video.
Donald J. Trump has a story he liked to tell early in his campaign to win Florida.
The first time he told it, he had 144 days to go before the Florida primary. He was in front of hundreds of people at a rally at Trump National Doral, which was fitting because the story is all about how he bought the South Florida golf resort in the summer of 2012.
The story goes that he and his daughter Ivanka walked into closing with a contract to buy Doral for $170 million. But when it came time to do the deal, Trump told the crowd, he got the sudden urge to show off.
There he was, Trump said, staring across the bargaining table at the other dealmakers, who all were beautiful men, "like from a movie, better looking than Tom Cruise," and who were wearing red suspenders and had gone to the best schools. And what did Trump do? He started ranting like a lunatic about the terrible shape the property was in.
Within about two minutes, Trump told the crowd, the movie stars in red suspenders took $20 million off the price tag. He got the place for just $150 million. And then he tore it down and built it up again.
This is what he wants to do with America, he said. Acquire it, gut it to the steel and remake it in his own image.
It didn't matter that the story Trump told was exaggerated. That Ivanka was said to have worked out most of the deal by herself. That people on the other side of the deal believed Trump had overpaid for the property by as much as $60 million — even at the lowered sale price — and were giddy at landing such an unexpected windfall. That contractors Trump hired to make the resort great again were filing liens against him because he hadn't paid them for their work. That rooms in the redone hotel could be booked, same-day, on Priceline.com for $160, which was $9 cheaper than rooms at the nearby Courtyard Miami and $109 cheaper than the Marriott Vacation Club just a few blocks away.
None of that mattered to the crowd at Doral on Oct. 23, 2015. What mattered was the image being put in front of them.
Florida is key to the image Donald Trump is peddling to the world. It's home to the most potent symbol of his wealth and accumulation, his Palm Beach estate, Mar-a-Lago. It's the site of one of the first golf courses he ever built. It's studded with the sort of glitzy condo buildings and beachfront high rises he wants his name on.
But for every totem here that showcases his power and savvy, there's also an episode that reveals his limitations.
There was the time he almost went bust developing a pair of condo towers in West Palm Beach. His bizarre, decades-long feud with the Palm Beach International Airport. The allegations from at least half a dozen people that he has run Mar-a-Lago and other private clubs like a pyramid scheme. His direct role in off-the-books lobbying incidents that saw one of his consultants admonished by the Miami-Dade Commission on Ethics and Public Trust.
A review of Trump's dealings in Florida over the past 30 years reveals a much more complicated picture than the one he presented to Floridians on his way to winning the state's primary in March — a victory that all but guaranteed him the Republican nomination.
It shows he didn't always get the best end of every deal. That his thin skin sometimes led him to do things that were against his best interests. And that flashes of weird attitudes toward women, minorities and the disabled have put off people who worked with him.
The review also turned up more than one account of unexpected kindness and over-the-top generosity on the part of a man everybody still is trying to figure out.
Boom to bust
Trump first came to Miami as a boy on family vacation. The second youngest of five children born to a homemaker and a wealthy New York builder, Trump was by all accounts a stubborn and rebellious kid. He got in trouble all the time.
He looked up to his father, and he fondly remembers going on walks with Fred Trump at Doral during trips to the old resort. It's part of the reason he has a soft spot for the place, he said.
The elder Trump made a fortune as a builder of rent-controlled and rent-stabilized housing in Queens and Brooklyn, and stories of his thriftiness and cunning are a big part of Trump lore. He used to pick up nails off the ground at construction sites so he could reuse them at other jobs, according to one Trump biographer. His political clubhouse connections would help his son in his first New York building deals.
By 1985, Donald Trump had graduated from the University of Pennsylvania; worked for his father's company in the outer boroughs; struck out into Manhattan; married Ivana, an Eastern European fashion model; built Trump Tower next to Tiffany's on Fifth Avenue; and fathered three children. It was time for him, at age 39, to go get a place in Florida.
That December, he bought the sprawling former home of cereal heiress Marjorie Merriweather Post in Palm Beach for $5 million, plus $3 million for the furnishings. He bragged about the discount he got on the 118-room mansion in his 1987 bestseller The Art of the Deal, which he co-authored with a ghostwriter who now says he regrets making Trump look shrewd and is actively trying to discredit him.
What Trump didn't mention in the book was that the purchase was helped along by an unrecorded mortgage loan, which was arranged by a commercial banker in New York, a fact reported by journalist Wayne Barrett in his 1992 book Trump: The Deals and the Downfall. The unorthodox arrangement made it seem like Trump paid cash for the property when in fact most of the money came from Chase Manhattan bank.
Less than a year after buying Mar-a-Lago, Trump was on his way to lunch in Palm Beach, having flown down for the weekend, when he spotted a pair of 32-story condo towers across the waterway in West Palm Beach. He bought those, too, for $40 million, and predicted he would sell all 200 units right away, at a handsome profit. People who knew the local real estate market thought differently. Trump pushed ahead anyway.
Three years later, more than half the condos still were unsold, and Trump was in big trouble. He had stretched himself thin running three casinos in Atlantic City and a foundering airline. He was being crushed under a massive pile of debt. His marriage to Ivana was imploding due to reported infidelities with a younger woman. The couple was heading toward an expensive divorce.
With his company in shambles and his personal fortune at stake, Trump admitted defeat in West Palm Beach. His lender ordered him to put the condos on the block. He sold them at an auction in a nearby hotel ballroom for far less than he had predicted they would fetch.
In a statement to the Tampa Bay Times, a spokeswoman for Trump's campaign cast the situation in a positive light. "This was a deal that was very successful for Mr. Trump and for the community," Hope Hicks said. "He bought the property very inexpensively and sold the majority of the units and auctioned the final number."
On the day of the final auction in 1991, Trump didn't stay to watch the end of the bidding. But before he left that day, he made one thing clear: He was not going to part with his Palm Beach home. "Mar-a-Lago is mine," he told a Miami Herald reporter. "It'll always be mine."
Still, his debt problems threatened to eat away at the money he had left in the bank, and he had a big problem when it came to his mansion. It cost him between $1 million and $2.5 million a year just to keep the place up.
If he was going to hang on to Mar-a-Lago, he would have to find a way to offset those costs. He would have to find a way for the mansion to make money.
'What's going on?'
The day after his rally in Doral, Trump was in Jacksonville, wearing a red baseball cap and standing in front of a big crowd, and again he told the story of the movie stars in red suspenders.
"Everything I say is because this is the kind of thinking our country needs," Trump said when it was done. "We need this sick thinking, do you understand that?"
Then a woman fainted in the crowd. He stopped his speech and craned to see what was going on. "Tell her I love her the best," he called out over the PA. "I love the women that faint when I speak. Those are the ones that love me."
The need for more women to love Trump had been on his mind. At Doral the night before, he had cited poll numbers and said, "I'm leading with men, big league. I'm not doing as well with women. Will you help me?" — and he pointed, somewhat amorously, at a woman in the crowd. "What's going on?"
That same question crossed Nancy Graham's mind the day she first met Trump in 1993.
Barely two years into her first term as mayor of West Palm Beach, Graham was putting in an appearance at one of those rubber-chicken business luncheons that mayors have to go to when Trump came ambling up to her table. He was 46 or 47 and had just gotten divorced from Ivana. He sat down next to Graham and started talking, she told the Tampa Bay Times, and he didn't stop even when the speaker at the rostrum started speaking.
Instead, Graham said, Trump talked over the speech, describing for her in detail a private party he had just thrown at Mar-a-Lago — for 100 of the most beautiful women in the world. "He talked about the food and the chefs and all the planes bringing all these women from everywhere," Graham said. "The whole thing was about the beauty of these women."
"To this day I think that was one of the most jaw-dropping experiences I've had," Graham said. "I thought it was ridiculous. I thought it was really stupid. Why would you sit there for an hour and brag about something like that? To a woman?"
Trump had yet to make Mar-a-Lago turn a profit, but he didn't let money troubles put a damper on his bachelorhood. The informal gathering in question was one of several thrown ahead of the Donald J. Trump American Dream Festival, a series of beauty pageants he involved himself in after seeing some of the women compete in Atlantic City in the early 1990s.
Pageant hopefuls ringed the pool at Mar-a-Lago in 1993 not out of an independent desire to spend time with Trump but because they perceived that being there would give them an edge in the contest, pageant organizer George Houraney told the Tampa Bay Times.
The prize was one of 13 spots in the American Dream Calendar, a springboard to modeling contracts and acting gigs, Houraney said. Trump was a judge in the competition, and the finals were to be held that year at Trump's Castle Casino Resort in Atlantic City. None of the women competing wanted to miss a chance to impress a judge like Trump.
"What it was was a way to get his friends together and bring a bunch of pretty girls with them," said Houraney, whose ex-wife once sued Trump, accusing him of making unwanted sexual advances. (He denied the allegations.) "There was a reason. Not just, 'Come over to my house for the weekend.' Because he's not the type of guy to sit around with a bunch of men and just talk."
Among the regular guests at the parties, Houraney said, was Jeffrey Epstein, a billionaire financier who later would be accused of paying more than a dozen teenage girls to have sex with him. Epstein, who also associated with former President Bill Clinton, pleaded guilty in 2008 to two felony charges of soliciting prostitution and was required to register as a sex offender.
"That was one of his best buddies. He threw a party one night just because of Epstein," Houraney said of Trump. "He said, 'The other guys aren't coming, but I don't care because Jeff's coming.'"
Hicks, Trump's campaign spokeswoman, disputed that Trump and Epstein were especially close. "Mr. Trump only knew Mr. Epstein socially as someone who would occasionally use the club," she said. "They were not 'best buddies.'"
The pageant finals were held at Trump's Castle that year. It was the last time Houraney and Trump would work together. Houraney sued Trump about a year later, alleging that Trump hadn't lived up to the obligations of his contract with the American Dream company. They settled the case in 1997.
Houraney, who has an apartment in Boca Raton, said he is writing a tell-all book. Still bitter, he wonders how a man who ran three Atlantic City gambling houses into the ground will fare as president. "He can't run a casino. How can he run the country?" Houraney said. "They want this guy to run our country? Oh my God."
Building walls
One hundred and twenty-three days before the Florida primary, Trump was in semi-hostile territory. Clad in a navy suit that looked too big in the shoulders, with a blue-striped tie pinched confidently into a full Windsor knot, the candidate looked out at an audience that wasn't quite buying what he was saying. He was in Orlando at the Republican Party of Florida's Sunshine Summit, and his jabs at the other Republican candidates were falling flat.
So he switched to a topic that had never failed him.
"Had I not come out in my now famous opening remarks in Trump Tower, when I announced that I was running for president, and had I not talked about illegal immigration, I don't even think you'd be talking about it today," Trump said. "And I took a lot of heat."
It's one of the ironies of Trump's evolution as a businessman and political candidate that his plan to keep Mar-a-Lago revolved around letting everybody in, not keeping people out.
The Palm Beach that Trump moved into when he bought his estate was a place that still harbored deep-seated prejudices against interlopers, including Jews, people of color and the too-crass newly rich.
Trump himself might have been a victim of the town's discrimination. Local newspapers at the time reported that he had been denied membership at the exclusive Bath and Tennis Club — claims Trump has dismissed.
By the early 1990s, Trump and his advisers had figured out a way to use the town's discriminating ways to his advantage. The plan called for converting Mar-a-Lago into a private club open to all comers, provided they could afford the hefty price of membership. Deposits at Mar-a-Lago hovered between $50,000 and $100,000, and annual dues were about $12,000.
Soon members of the town's growing Jewish community were flocking to the club alongside other minority residents who had struggled to become members of the ultra-exclusive clubs.
Trump's dealings inside Mar-a-Lago offered glimpses of his attitudes toward race. One former employee remembers feeling surprised when one day he overheard Trump refer to black people by saying, "It must be terrible going through life with that color skin."
The employee — who spoke on condition of anonymity because he signed a nondisclosure agreement — was struck by the statement because he never imagined Trump empathized with minorities.
Trump's campaign denied Trump ever said such a thing. "Totally and completely false," Hicks said. "An unsubstantiated claim likely made by an enemy of Mr. Trump. What a disgusting statement, one that would never be made by him under any circumstances."
There also have been times when Trump seemed eager to be seen associating with black people.
In April 2008, Jose Lambiet — then the gossip columnist at the Palm Beach Post — got a phone call from Trump. He said he was throwing a birthday party for Maya Angelou at his Palm Beach mansion. "He said, 'Hey, Oprah and all these people are going to be at Mar-a-Lago. I'm going to leave your name at the door. Just come in and don't tell anybody who you are, and write a story about it,'" Lambiet told the Tampa Bay Times.
When he got there, Lambiet, who is skinny, bald, 6 feet tall and speaks with a Belgian accent, was the only white guy in the room. As time passed, people started getting suspicious.
Finally, after an hour or two, Trump walked up to the gossip columnist and, in a low voice, asked, "Hey, how long have you been here?" Satisfied with the answer, he called in a much louder tone for a nearby security guard: "Kick this guy out for me."
"He didn't want them to know he had let me in to write a story on it," said Lambiet, now publisher of the online scandal sheet GossipExtra.com. The story ran the next day under the headline "Oprah throws Mar-a-Lago bash for Maya."
"I got a great column out of it."
Trump's campaign denied he allowed Lambiet in on the sly.
Getting in fights
By the late 1990s, Trump was turning things around. He had sold off his airline, Trump Shuttle, to US Airways and put two of his Atlantic City casinos into corporate bankruptcy. He had shifted much of his remaining personal debt onto shareholders by transferring ownership of his casinos to a publicly traded company.
Forbes magazine once again was including him on its annual list of America's richest people. And he had kept Mar-a-Lago, now safely converted into a private club. It seemed Trump was free to enjoy his weekends and holidays at the sprawling, Hispano-Moresque estate, with its gold-leafed ceiling, its Venetian silk-needlework panels and its marble-topped dining table inlaid with semi-precious stones.
Trump loved Palm Beach for the image it conferred upon him, but he often was viciously at odds with the old-money elites and the stuffy rules they forced the town to live by.
He fought with the town almost from the moment he got there. He fought them over his wishes to subdivide the estate and develop it. He fought them over his plan to convert Mar-a-Lago into a club. He fought them over sprinkler systems and fireproofing methods for the 16th century Portuguese tapestries that hung on his walls. He fought them over photo shoots, concerts and charity benefits. He fought them over ficus hedges. He fought them over his right to fly a gigantic, car-dealership-sized American flag on an 80-foot flagpole in his front yard — because only a flag of that size could adequately express the magnitude of Trump's patriotism, his lawyers argued in court.
In spite of all the combativeness, some town officials came away liking Trump.
"I found him very easy to deal with. Very realistic and very straightforward. And never dishonest. Now, did he push the envelope? Of course. And the flagpole is the example of that," said Robert Moore, former head of the Palm Beach building department who retired in 2005. "That was part of the give and take with him. But he always was three steps ahead of us, that's for sure."
As much as Trump fought the town of Palm Beach, and reportedly delighted in irritating his neighbors, it was nothing compared to the feud he has carried on with the Palm Beach International Airport over the past 30 years.
Put simply, Trump — who former airport officials say used to fly in and out of Palm Beach on the noisiest plane on the airfield, and who once had his 727 impounded for failure to pay a noise fee — has by all accounts an almost irrational hatred of airplane noise. And because Mar-a-Lago sits directly in the path of planes taking off from Palm Beach International Airport, airplane noise is something he hears all the time.
It drives him crazy, former employees said.
One recalled how Trump would fly into a rage when, during a charity event or a party being held in a tent on the Mar-a-Lago grounds, a plane would fly overhead. It didn't matter if it was 11 p.m., the employee said, "he would have a staff member go and try to raise the director of airports, Bruce Pelly, out of bed to stop the planes."
Pelly, who wouldn't comment for this story, has figured prominently in the four lawsuits Trump has filed against Palm Beach County since 1995. In one complaint, filed in 2010, Trump's lawyers argued "Pelly's actions in directing the overflights of Mar-a-Lago are no different than if Pelly himself was standing on the road outside Mar-a-Lago, aiming and firing a sound gun at the historic Mar-a-Lago property. The result is the same."
To defend against the lawsuits, the Palm Beach County Board of County Commissioners has paid an outside law firm almost $1 million in taxpayer money, county records show.
Trump and the county struck a deal on the first lawsuit in 1996. As part of a settlement, Trump agreed never to sue the airport again. The county agreed to lease Trump a plot of county-owned land, where he would spend $40 million to build Trump International Golf Club. It was right next to the County jail. "We were joking with each other: 'I bet he tells people that's a hotel,'" former County Commissioner Karen Marcus told the Tampa Bay Times.
The second suit was dismissed voluntarily. The third lingered on the docket until Trump's lawyer on that case died.
He's still pressing a fourth suit in hopes of forcing the airport to stop flying planes over Mar-a-Lago.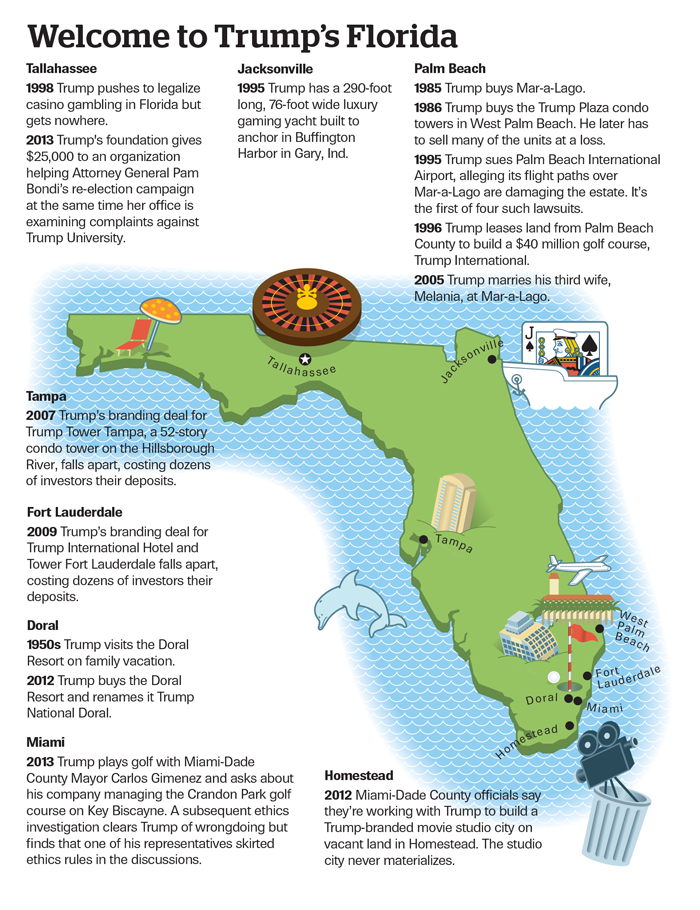 'I don't shake hands'
On Saturday, Nov. 28, the big, brassy theme from the '90s action movie Air Force One blared over loudspeakers as Trump's helicopter landed outside the Robarts Arena in Sarasota.
Like the hero in the movie, Trump arrived that day ready to settle a score.
Just days earlier, in Myrtle Beach, S.C., he had derided a New York Times reporter for not backing up bogus claims Trump made that "thousands and thousands of people" watched the 9/11 attacks and cheered in New Jersey, where there are "large Arab populations."
The reporter, Serge Kovaleski, has a joint disorder that forces him sometimes to carry one arm tucked up and against his chest. When Trump imitated him in Myrtle Beach, he held one hand up against his chest and spoke in a groaning voice.
Afterward, Trump said he had never seen the reporter before. The reporter said they had seen each other so often in the 1980s they were on a first-name basis.
Now Trump was ready to explain himself. Here's what he said in Sarasota:
"So, all of a sudden I heard that because I expressed myself very strongly — it's groveling, I'm trying to show groveling. I'm trying to show groveling — but all of a sudden I found that I was mocking somebody. So I looked it up. And the person has a disability. And the person said, 'I know him, I know him,' but I, you know, and I said, 'When?' In the 1980s. The 1980s. That's a long time. Thirty, thirty-five years. That's a long time ago. But I don't — believe me — I don't know, and if a person — nobody gives more money to Americans — you know the Americans with Disabilities Act? Big act. I give tens and tens of millions of dollars, and I'm proud of doing it. I don't mock people. I don't mock people that have problems. I don't mock people that have problems. Believe me."
Maybe he mocks them and maybe he doesn't, but one thing is certain: Trump has a visceral negative reaction to people in wheelchairs or with disabilities, according to the former Trump employee.
For some reason, the employee said, they make Trump deeply uncomfortable.
That seemed to be the case in January 2007 when Richard Steinberg took a break from playing croquet on the lawn at Mar-a-Lago to approach Trump in the poolside bar.
Steinberg was 74 and, recovering from two strokes, partially blind and paralyzed on his left side. He stuck out his hand and told Trump he was a big admirer, according to an account of the incident in the Palm Beach Post.
Rather than greet the disabled man, Trump took a step backward and told Steinberg, "I don't shake hands."
Nine days later, Trump banned Steinberg and his entire croquet club from returning to the club — by rescinding their privileges to use the lawn. "The timing was uncanny," Steinberg's croquet partner, Lila Bashe, told the Post at the time. "I'd hate to think that Mr. Trump doesn't want to see impaired people at Mar-a-Lago."
In an interview, Steinberg, now 84, told the Tampa Bay Times he didn't think much of Trump after that: "I did not measure up to him as a man, I guess."
Trump's campaign said Trump has "no idea" who Steinberg is. "He would never say that," Hicks said, adding that Trump "has nothing but respect for all people, including those with disabilities."
Trump's aversion to the injured and disabled was so well-known among employees at Mar-a-Lago that when his butler, Anthony Senecal, fell and injured his arm at the club one day in 2008, he called for another employee to pick him up and drive him away, according to two former club employees.
They said he was worried that, if the boss saw him hurt, he would refuse to pay for his medical care.
Senecal disputed the story. "Mr. Trump witnessed the fall and sent me to the hospital," he wrote in an email to the Tampa Bay Times. "I would never think of hiding ANYTHING from Mr. Trump!!!!"
Knowing Trump
On his Florida campaign stops, Trump constantly was talking about all the friends he has.
He has a doctor friend who employs more accountants in his office than nurses. He has a friend who is black, and a great athlete, but Trump can't call him black because that isn't politically correct. He has a friend who had four major operations but still didn't hit his insurance deductible. He has a very rich friend who wonders how he speaks without teleprompters. He has friends who live in different parts of the country, and they all tell him that immigrants are a serious problem. He has billionaire friends who call him when they need help getting tables at good restaurants. He has a friend who is Elton John. He has a friend in the excavation business who now only orders Komatsu tractors. He has an important doctor friend who notes that the United States buys more pharmaceuticals than anybody else. He has a friend who practically invented email yet refuses to use it. He has friends who are great manufacturers but can't get goods into China. He has friends in Hollywood who tell him everybody out there is secretly going to vote for him. He has a very successful friend who read his federal election filings and said, "Now I know how successful you are." He has a friend who is a very, very powerful guy, a very smart guy, a great businessman, who wonders how in the hell Trump can get up and speak in front of so many thousands of people.
It's because there's so much love in the room, Trump told him, according to Trump.
But who is Donald J. Trump, really? Who out there knows him?
People who have dealt with Trump in Florida over the years describe him in radically different ways.
Builder Pasquale Capalbo, who spent 10 years working for Trump as a general contractor in Palm Beach County, said he was a demanding, "brutally honest" boss with an uncanny eye for detail. "He would call me at times at 10 or 11 o'clock at night and discuss a thought that he had that maybe needed an adjustment," Capalbo said. "He'd stand under a building and look up and say, 'That column is crooked.' It's amazing he can see that."
Miami attorney Elizabeth Beck, who represented real estate investors in a lawsuit over a failed Trump branding deal in Fort Lauderdale, said Trump flew into a rage when she tried to halt a deposition to pump breast milk in 2011. "It just made him really squeamish. It just grossed him out to the point where he couldn't handle it. He got very angry at me and he just started screaming, screaming," Beck told the Tampa Bay Times. "He started screaming, he called me disgusting, his face got all red. He shook his finger at me."
Raymond Scully's father worked at Mar-a-Lago as a maintenance man in the 1990s. Scully helped out as a painter and, once, as a fill-in butler on Easter Sunday. "My mother had a heart condition. My father got laid off, I don't know for what. Mr. Trump found out that my mother was ill, and he continued his insurance policy in his name for her. And she got a heart transplant," Scully said in a phone interview from Massachusetts. "He saved my mother. He gave her an extra 20 years of life."
Asked whether Trump really believes the incendiary things he says, Wes Blackman, a preservationist who oversaw the careful restoration of Mar-a-Lago, at first declined to answer. Then he said: "He is being noted for being authentic and saying what he means and what he really thinks. And I think that's pretty accurate."
Robert Moore, the former building director for the town of Palm Beach, said he saw a side of Trump that will never be shown through a camera. He recalled a day, after Hurricane Wilma hit in 2005, when a town employee was desperate to find a place to stay. The storm had torn the roof off her duplex, Moore said, and that meant she was incapable of bringing home a baby she had just adopted. She turned to Moore, who knew of only one person on the island who definitely had an empty house. He called Trump.
"He said, 'Do you think I'm that much of a sucker?'" Moore recalled.
"No, but I know you."
"Goddamn you. You're taking advantage of me."
"Donald, just tell me yes or no."
"Well, you know the answer is going to be yes. On two conditions."
The first was that the town employee leave the house exactly as she found it. The second was that Moore tell nobody about it. "He didn't want to be known as a sucker who would give in to something like that," Moore said. "Or people would be lining up and asking for favors."
Disgusting reporters
Ten days before the Florida primary, Trump was in Orlando and flying into a rage because he said the "lying, dishonest" media wasn't giving him the credit he deserves. "Do you understand? You are the most dishonest human beings on earth. The most," Trump snarled at the reporters covering his rally. "They are disgusting, dishonest human beings."
Trump's complaints about the media, about how the cameras never show the size of his crowds, were a near constant refrain on his Florida campaign stops.
Yet Trump spends an enormous amount of time consuming news about himself. Long before he ever ran for president, he regularly called reporters at South Florida newspapers with gripes about how they covered him. No story seemed too small to draw his ire. Trump was a favorite subject of Palm Beach Post columnist Frank Cerabino, and he routinely would call Cerabino to complain. In 1999, Cerabino held a contest to rename the Palm Beach County Jail after Trump built a golf course in its shadow. "When they opened up the golf course, we were told that we could send anyone but me," Cerabino told the Tampa Bay Times.
In January 2005, Lambiet, the former Palm Beach Post gossip columnist, got a call from Nicolas Jacobson, an 82-year-old Latvian immigrant who ran a storefront chandelier shop in West Palm Beach, on Southern Boulevard, just over the bridge from Mar-a-Lago.
Even though Jacobson's shop was small, located directly across the street from a Flanigan's Seafood Bar and Grill and had the misspelling "CHANDALIER" emblazoned on its most prominent, road-facing wall, it was the place Trump chose in 2004 when he was shopping for lighting for his new ballroom.
Jacobson told Lambiet that he had agreed to sell Trump three chandeliers for $33,997, and that Trump had given him a down payment of $16,998. Then, after the pieces were installed, Trump refused to pay the rest.
"That guy needed every purchase to make it. This is not a rich guy, Jacobson, by any stretch," Lambiet told the Tampa Bay Times. "And this was telling about his financial situation: He would schlep to the store every day."
Lambiet said he called Trump to ask him about the purchase, "and the first thing he said is, 'That little Russian doesn't know what he's talking about!'"
"He started degrading him, talking about how the quality of his stock was not that good and that basically that guy should be honored that he got to sell to Trump," Lambiet said.
Trump had just married his third wife, Melania Knauss, in the ballroom where Jacobson's chandeliers were hanging.
Lambiet wrote a column taking up for Jacobson that ran under the headline, "The big 'I do' leaves some dues and don'ts."
Enraged, Trump responded by suing the elderly small-business owner for breach of contract. Soon after, Lambiet got another phone call from Jacobson. "He was really despondent, I remember that clearly," Lambiet said. "And it sounded to me like he was about to cry."
Feeling unable to defend himself, Jacobson said he was going to settle the case — and write a letter of apology to Trump as a condition of having the lawsuit dismissed. "I know I'm not wrong, but I told his lawyer to write an apology letter and I'll sign it," Jacobson told Lambiet. "And I'll take half the money. What else can I do? At my age, I don't have a lawyer. I don't have the money to fight him. I never had an enemy in my life. I can't understand why he wouldn't pay me. I can't sleep at night anymore."
Lambiet wrote another column about the shopkeeper's plight, and soon support poured in from across the county. Heartened, Jacobson scrapped the apology, got a lawyer and counter-sued for breach of contract.
The legal fight dragged on till 2007, when the two sides finally struck a deal. "We settled it for a lot less than he was really owed," Jacobson's attorney, Ron Jones, told the Tampa Bay Times. "Because he didn't have the money to litigate it. It was a one-man shop."
Trump's campaign said the case was "settled reasonably."
Jacobson died last year.
'A real tsunami'
March 15. The Florida primary. Judgment day.
It wasn't even close.
Trump savaged Marco Rubio in his own state, beating him in 66 of 67 counties — and by more than 18 percentage points statewide.
"America's in the middle of a real political storm, a real tsunami," Rubio said before suspending his campaign that night. "And we should have seen this coming."
At the eye of that storm, inside the opulent Donald J. Trump Grand Ballroom at Mar-a-Lago in Palm Beach, Trump was encouraging his cheering supporters to sit down. "I mean, this is Mar-a-Lago, we give you seats," he deadpanned before going on with his victory speech.
"Look, This is my second home, Florida. To win by that kind of a number is incredible," he told the crowd. "It's record-setting."
He still had much in store. But for now he was under the chandeliers, savoring the moment.
There's one more story about Mar-a-Lago that's worth recounting.
Trump had the new ballroom built in 2004, to accommodate the parties he liked to throw at his club. Before that, he had to hold big events under giant tents erected for special occasions.
County records show Trump personally signed off on paperwork for the contractors, which is perfectly in keeping with the image he has cultivated over the years.
He started burnishing it in 1987, in The Art of the Deal, when he described taking time out of his busy day to field a call from a pool contractor. "He has a small question about the matching of the Dorian stone we're using for the decking," Trump wrote, "and I care about every detail when it comes to Mar-a-Lago."
The first night Trump had guests in his new ballroom, on New Year's Eve in 2004, he showed off his knowledge of the details to a Palm Beach Post reporter.
No point was too small. He said he had workers roll $7 million worth of 24-karat gold onto the walls and ceilings. He said he had the bathroom floors tiled in apple-green onyx. He said the sink basins were made of gold, and so, he said, were the bathroom pipes. "I'm very happy about the way this building turned out," Trump said. "It's got the feel and look of Louis XIV, and that's my favorite style."
Eleven months earlier, while the ballroom still was being built, one of the buildings at Mar-a-Lago caught on fire.
On a day that Natalie Cole was slated to perform at the club, the singer's stylist was in an outlying cottage before the star showed up, getting ready to do Cole's hair, when she accidentally overloaded an electrical outlet.
She ran from the building. Two of her co-workers tried to beat back the flames with bed linens. Mar-a-Lago security guards sprayed the room with a fire extinguisher. Still the flames kept spreading.
No fire alarm sounded. The sprinkler system never started sprinkling. By the time the fire department put out the blaze, the cottage was heavily damaged. No one was hurt.
A fire marshal who investigated found that the water supply to the bedroom sprinkler system had been shut off, according to his report. A technician who opened the box for the fire alarm found a loose wire dangling inside. When he reconnected it, the fire alarm started blaring.
Trump's campaign blamed the deactivated alarm on Cole's entourage, saying "they turned off the fire alarm in the cottage because of the heat from her hair dryers and beauty regimen."
But it was a Mar-a-Lago staff member who was chided by the fire marshal after the incident — and who said he would correct the problem right away.
When you're running a big, sprawling operation like Mar-a-Lago, there are plenty of details to attend to. Some are about making the place look like it belongs to Louis XIV. Others are about making sure it doesn't burn down.
For Donald J. Trump, all the details matter.
Except when they don't.
Contact Michael LaForgia at [email protected]. Follow @laforgia_. Designed by Lauren Flannery. Additional design by Martin Frobisher. Video editing by Tracee Stockwell. Photo editing by Patty Yablonski. Videos from YouTube.
ABOUT THIS STORY
Tampa Bay Times staff writer Michael LaForgia spent five months examining Donald Trump's life in Florida, beginning with 1985 and working up to the present. LaForgia, who worked as a reporter for six years in Palm Beach County, reviewed more than 6,800 pages of public records in four Florida counties and interviewed more than 30 people who have dealt with Trump in the past 30 years.