the

girl


in the real world
Her story started in unimaginable squalor. Three years later, there's progress and potential.
For a few minutes, the school bus sat outside the old farmhouse. The driver looked out, waiting for someone to come. The girl in the front seat sucked her fist and stared through the window.
The driver honked. He couldn't just open the door and let this child into the afternoon sunshine. Who knew what she would do? Or how far she would go?
He honked again. A man in work boots hurried from the far pasture. "I'm coming," called the man, Bernie Lierow.
The doors opened and Danielle Lierow, 12, stepped out onto the gravel.
"Hi, Honey," Bernie said, as an aide handed him Dani's backpack. "What did you do today?"
Dani shuffled her sneakers. Didn't answer. Then she reached out and grabbed her dad's hand – a meaningful gesture for a child who, it seemed, would never connect with anyone.
"Pick up your feet, Honey. Walk," he kept saying, steering her up the drive. "You're doing great."
The Tampa Bay Times shared Dani's story in August 2008, in an article called "The Girl in the Window."
Detectives had discovered her in a Plant City home in July 2005, when she was almost 7. She was curled in a tiny, roach-infested room, covered with her own feces, unable to speak or make eye contact, afraid to be held. A child protection officer had raced her to Tampa General Hospital. Dani weighed 46 pounds.
Investigators determined she had been left alone, in that dark, filthy space, for most of her life.
They called Dani a "feral child," like Tarzan or the wolf boy.
Police charged Dani's mother with child neglect. A judge terminated her parental rights, sentenced her to community service and two years of house arrest.
In 2007, Bernie and Diane Lierow, then of Fort Myers, saw Dani's photo in a gallery of Tampa Bay area children available for adoption. The Times story told of how the couple were drawn to her dark, vacant eyes.
The first time the Lierows met Dani, she was almost 9, wearing a diaper and drooling. She wasn't deaf or blind or autistic, didn't have cerebral palsy or muscular dystrophy. She just didn't connect, with anything or anyone. Because she had been by herself for so long, she had withdrawn to somewhere no one could reach her.
"There was no light in her eye, no response or recognition," said Dr. Kathleen Armstrong, the first psychologist to examine Dani. Armstrong, director of pediatric psychology at the University of South Florida medical school, called Dani's condition "environmental autism...the most outrageous case of neglect I've ever seen."
The Lierows said none of that mattered. They brought Dani home in the spring of 2007, just in time for Easter. Six months later, they adopted her. She was still having tantrums almost every night, stealing food and screaming when anyone tried to touch her.
But Bernie and Diane hoped their attention and affection could help make her whole.
"The Girl in the Window" was picked up in newspapers around the world and read by more than 1 million people online. Dani and her family later went on Oprah. Strangers donated more than $10,000 for Dani's care. This year, Bernie and Diane published a book, Dani's Story: A Journey from Neglect to Love. They get emails every month on Dani's website.
How is she doing? Can she talk? Is she happy?
Today, the Lierows live on a 26-acre farm east of Nashville. Dani, in sixth grade now, is taller than Bernie. She still looks a little haunted, but she will look you in the eye.
Bernie, 52, and Diane, 49, raise horses, goats, chickens, dogs and foster kids. They have taken in nine children so far. At the moment they have a 16-year-old girl living with them — plus Dani, who is almost 13; their grown son, his two babies, and the babies' mom; and their son Willie, about to be 14. They also have bought six rundown homes, trying to turn them into rental properties.
"We save everything," Bernie said. "Houses, animals, kids." With so many rescues, there isn't always time for rehabilitation. The farmhouse's front porch is collapsing. A horse recently kicked a baby goat, maiming it. The mama dog ran out the gate and got hit by a car.
And then there's Dani, whose rehab is the most elusive of all.
◆◆◆
After walking Dani from the bus on a recent Friday, Bernie followed her through the farmhouse, to the bathroom. She knows the afternoon routine. But he still has to watch her, to make sure.
She still has accidents sometimes, so she wears Pull-ups at night. But during the day, at home, she can usually manage the toilet on her own.
"That's it. Sit down. Close the door," he prompted Dani from the hall. "You got it. That's a good girl."
In the living room, Diane was holding her 15-month-old granddaughter. When Dani walked in, the toddler looked up and cooed. Dani didn't seem to notice. She picked up a blue plastic ball, flopped on her back on the floor, and started bouncing the ball off her feet.
It flew higher and higher. Dani started rocking, her mouth wide, eyes fixed on the toy. When it almost hit the ceiling, she made her first sound of the afternoon: Dani laughed.
"Oh, she does that all the time now," Bernie said. Before, you had to tickle Dani to get her to laugh. Now, she does something and recognizes it's funny. Her feet set the ball soaring. She did that.
Just as often, she's an utter mystery, and her parents can only guess at what is happening inside her.
"She'll be laughing up a storm sometimes, but then she'll start bawling," Bernie said. "I won't know what's wrong, if it's something from what happened to her earlier, or if something just hits her the wrong way. It's tough for her. It is. Like being 5 in a 12-year-old body."
"Except 5-year-olds know their letters," Diane said. "They can sit still. They tell you what's upsetting them."
Dani used to melt down a few times a week because she was so frustrated that she couldn't communicate. Now that she can refuse things, and reach for others, she has fits only every few months.
The tantrums, difficult when she was 9, are much more awkward now that she's almost a teenager. After playing with the ball in the living room, Dani spent time outside, swinging, stomping in the goats' pool, brushing her dad's hair with the horse's brush. Her mom and Willie were shaving goats to show in the next day's county fair.
By dusk, Dani was done, moaning and thrashing and dragging her dad toward the house. "It's okay," Bernie kept saying. "You're okay."
He can't pick her up anymore, so he led her inside. "It's okay. Calm down. Let's turn on the TV and let you watch cartoons," Bernie said.
He turned on Blue's Clues, a simple show for kids. Dani dropped on the floor and smiled at the spotted dog. When she is watching cartoons, Bernie said, he can leave her alone inside for a half-hour and finish his chores. But if Diane is outside too, he locks the refrigerator "so Dani doesn't drop all the eggs."
On the refrigerator, between Arby's coupons and an OfficeMax discount card, someone hung a Bible verse, Jeremiah 29:11. "For surely I know the plans I have for you, says the Lord, to give you a future with hope."
◆◆◆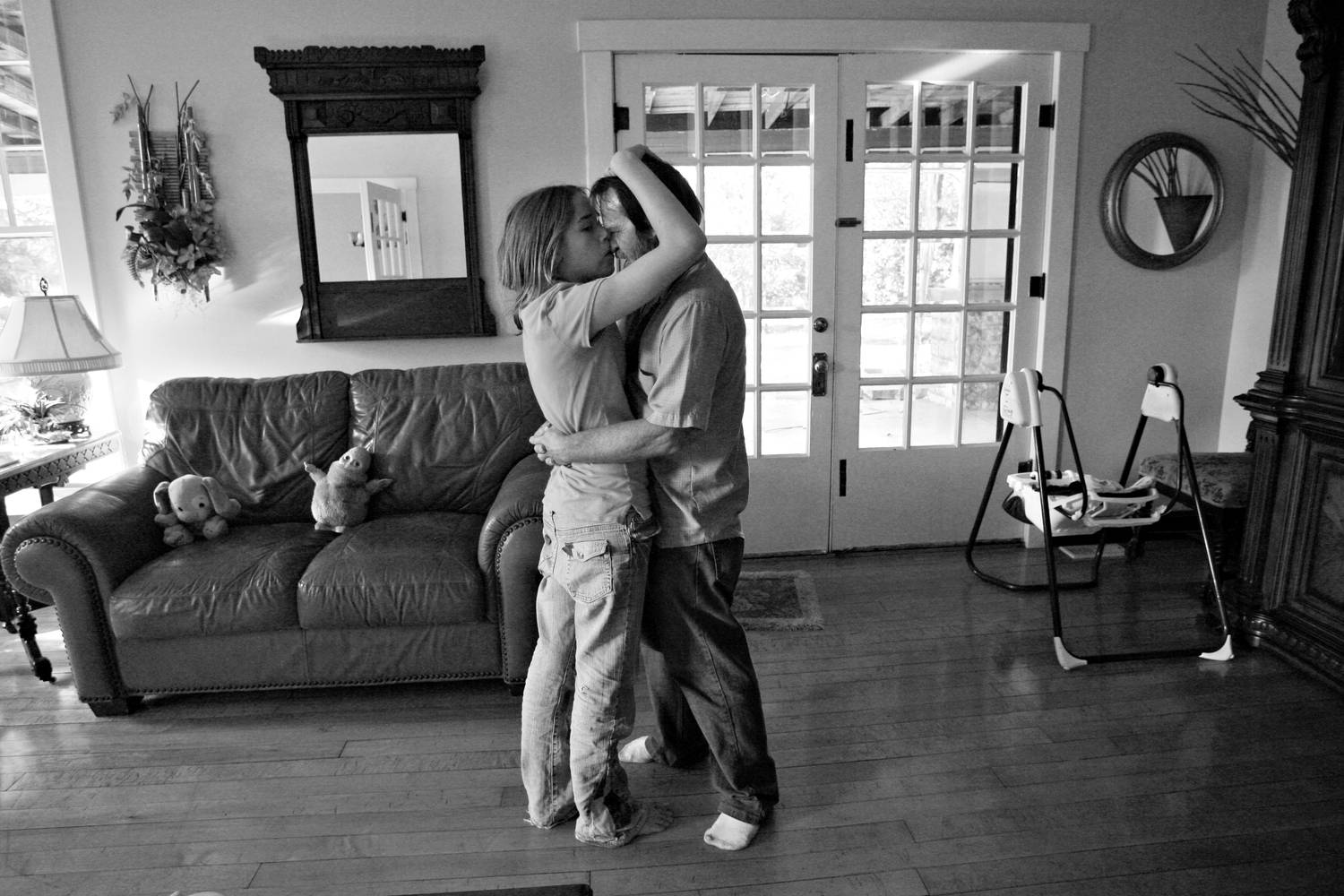 They search for small signs that things are getting better. Dani can tune you in, when she wants to. And she often checks out. You can't tell if she is oblivious or just ignoring you.
She can't read, but she knows how to hold a book and turn the pages. She sits through an entire story about Maisey mouse. Does peg puzzles on her own. She can climb a fence, pour a cup of water, sleep through the night. She can't get dressed but she can rip off all her clothes and stuff them into the laundry basket.
"She doesn't chew off her dolls' arms anymore," Bernie said. "Now, she just spins them by their hair."
Six years after that detective found Dani, four years since the Lierows adopted her, she still can't talk. She has spent as much time away from her birth mother as she did with her. Maybe, even with constant conversation and professional therapy, you still can't rejuvenate parts of the brain that were never stimulated.
Still, Dani seems much more aware now, more trusting. She notices when a police siren streams past but she doesn't freak out. She let her camp counselor braid her hair.
Her parents still can't leave her alone with her older brother or with a babysitter because nobody else can keep her calm. So one of them puts Dani to bed every night. "When we play peek-a-boo with the sheets, in the last six months she's started to do it the other way, to make me disappear," he said.
"She understands everything. There's so much more in her than she lets us see."
"She's doing pretty good, I guess," said her brother Willie. "I don't see her as much now though." He's busy with 4H, with seventh grade and taking care of the goats. "She can open doors now," he said. "I don't know if that's good or bad."
This year, Dani started middle school, where she's in a vocational program with other special needs students. A speech therapist and occupational and behavioral specialists also work one-on-one with Dani.
Her care beyond that is limited. She doesn't have a pediatrician. When Dani is sick, her parents take her to a walk-in clinic. Psychiatrists and psychologists can't communicate with her, Diane believes, "so they can't help her." She and Bernie stopped taking Dani to private therapists because Medicaid wouldn't always pay for the visits. And the drive was too long.
"It just got to be too much, all those appointments," Diane said. "And she didn't seem to be getting much out of it, except for the horse therapy. So we kept that but figured she gets everything else she needs in school."
Speech therapist Vicki Graham works with Dani at her school four days a week. She is trying to teach her American sign language, words like "thank you" and "pull." "She signs for 'eat' and 'drink' and 'more,' but they're her own signs, not standard," Graham said. "I don't anticipate her ever doing finger spelling. But I want to give her a way to communicate, whatever that is."
She shows Dani how to find a picture of something she wants, then flash that card to get the object. A juice box. A bear. A blue ball.
"My main goal now is for her to learn to interact with her environment," Graham said. "I don't know whether she will ever talk."
Occupational therapist Michelle Hill has been helping Dani for three years. She directs a summer camp for disabled children, which Dani attends, and oversees occupational therapy for Wilson County Schools.
"Dani is still a runner. She likes to take off. She needs constant movement, sensory stimulation," Hill said. "You see that a lot with children from orphanages who didn't get held or rocked or exposed to sights or sounds. We are trying to help her with those issues, to be able to sit still and learn not to put anything in her mouth except food."
In the vocational program, Hill said, Dani will be learning how to brush her teeth, do laundry, make a sandwich. She wants Dani to follow a schedule. And recognize classmates.
"She is starting to let people come into her world, to look people in the eye, which is fantastic," Hill said. "She is continuing to make progress. She's a blank slate we all get to write on. There's no way of knowing how long she will be able to keep learning, or what she ultimately will be able to do."
Dani's mom wants her to be able to read. "Even if she doesn't have the skills to write, she could manipulate words," Diane said. At least, then, Dani could communicate what she wanted, or why she was upset.
Dani's dad wishes he could read her mind. What goes on in there that can't get out? What does she remember or fear or need? Someday, he said, he hopes Dani will be able to function without him. He wants her to live in a group home, get a job sorting office supplies. Find a friend.
◆◆◆
On Saturday morning, Diane and Willie loaded goats into their pickup and Bernie buckled Dani into his truck. The whole family headed for the Wilson County Fair.
For a few minutes, Dani stood patiently outside the gates. Then something caught her attention. That blow-up monkey at the dart game? The smell of cotton candy? The Ferris wheel towering in the distance? She bolted through the crowd, her dad following close behind.
"Okay, okay," Bernie laughed, catching her around the waist. "I know you're ready. What do you want to do first? You show me."
Today, he had told her, was her day. The fair had opened early just for people like her. So while Willie and Mom showed goats over in the barn, Bernie promised Dani he would take her on the rides, get her ice cream and popsicles, do whatever she wanted to do.
"The first year we were here, I rode kiddie rides with her. And she was a little confused by all the motion," Bernie said. "Last year, she kept dragging me to the biggest roller coasters, that boat that goes upside down, all the wild rides."
At the bottom of the Ferris wheel, someone was calling her name. "Dani! Dani!" She turned and saw two girls from her camp, each with their parents. Bailey Brown, 16, reached out her arms. Emily Burkett, 12, kept squealing, "Dani!"
Dani ran to them, smiling. Then the girl who had never let anyone touch her held up both hands and high-fived them.
"Dani, Dani!" Emily cried. "Wanna go ride the dragons?"
Dani didn't answer, but followed as they ran off.
Flying elephants and spinning spiders. Giant slides and a Crazy Mouse coaster. Popcorn and corn dogs and chocolate chip ice cream. Dani and Emily rode a dozen rides with their dads, and Dani ate all the junk food she could stomach. She held on until after 6 p.m.
The meltdown came in front of the old school house. Dani dove into a parked golf cart, groaning and thrashing. She was hot and tired and apparently sick of the fair. Two elderly women stared. A man in overalls shook his head. A boy in a ballcap asked, "Is she okay?"
"She's okay," Bernie told them all. "You're okay," he told Dani. "Let's go say goodbye to Mom and Willie and we'll be done."
He tried his soothing voice, his impatient voice, even bribed her with super sour candy straws. Finally, he half-dragged Dani out of the cart and propped her against his hip, staggering beneath her weight. "Mmmm," Dani moaned, her fists pounding her thighs.
On the way to the goat barn, she grabbed a woman's Coke right out of her hand. She took a pink balloon from a 2-year-old. Then bonked it against the back of man's head. She stopped to watch the sun slip behind the Ferris wheel.
"Come on," Bernie pleaded. "Let's get you home."
She looked at her dad, lifted her hands and cupped his chin. Then the girl who had gone so long without love, whom everyone worried might never love, leaned close. And licked her dad's beard.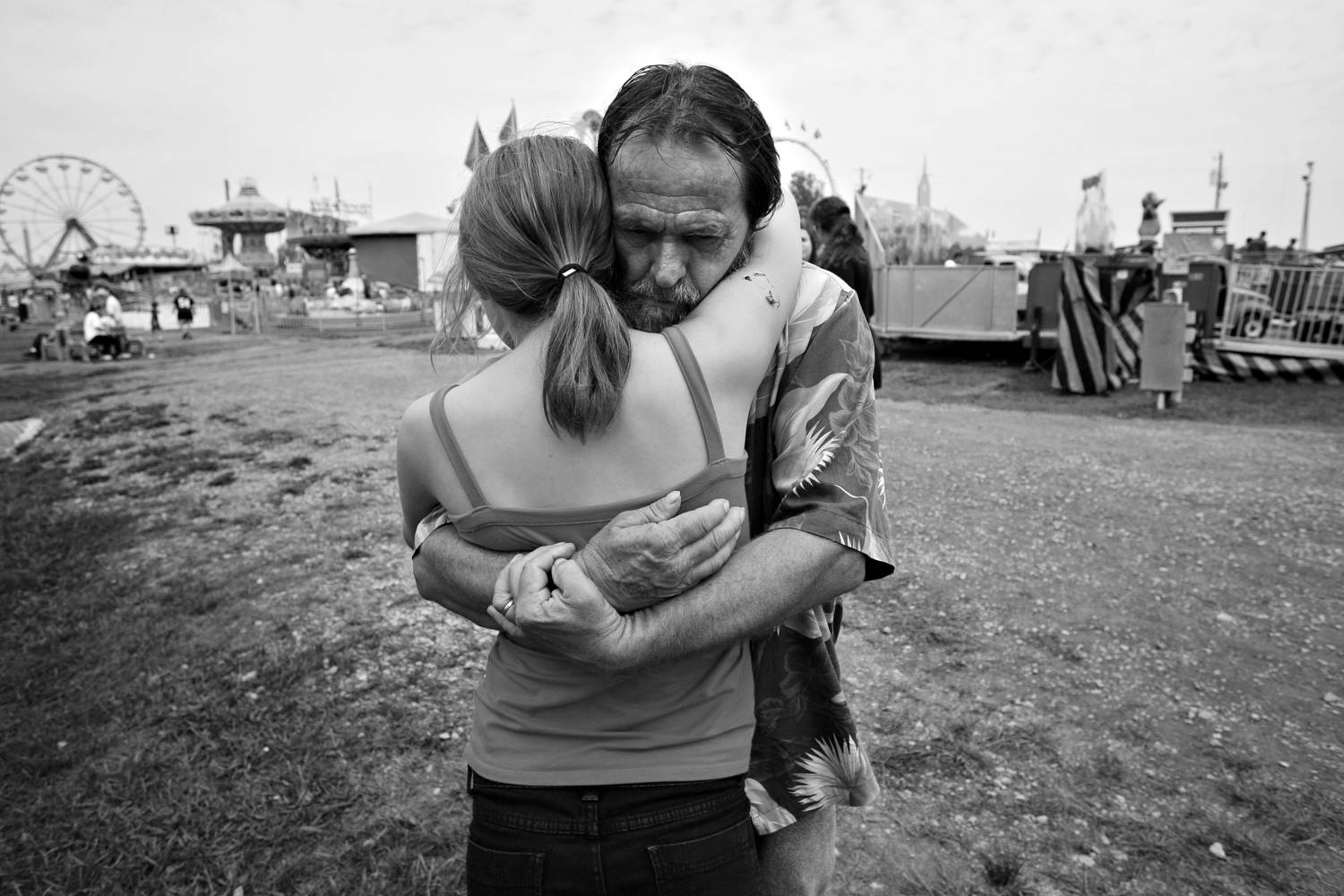 ◆◆◆
About this story
The Tampa Bay Times first told Dani Lierow's story in 2008. "The Girl in the Window" remains the most popular story in the history of tampabay.com, with more than 1.5 million page views since its publication in August 2008.
About the reporters
is a Pulitzer Prize-winning
Tampa Bay Times
reporter who prefers writing about people in the shadows. Lane graduated from the University of Virginia, where she was editor in chief of the Cavalier Daily student newspaper. Later, she earned a master's degree in rhetoric and communication studies from the University of Virginia. She previously worked for the
Daily Progress
and
The Virginian-Pilot
and moved to Florida in 2000 to write for the
Times.
She has won dozens of national awards, including twice winning Scripps Howard's Ernie Pyle Award for human interest writing, eight National Headliner Awards and been recognized eight times by the American Society of Newspaper Editors. She teaches at the University of South Florida, the Poynter Institute and journalism conferences across the world. Contact her at
[email protected]
or (727) 893-8825.
worked at newspapers, including the
Tampa Bay Times,
for 15 years and is now a freelance photographer in Los Angeles. She graduated from the University of Florida with a journalism degree. Her work has been published by ESPN.com, CNN.com, Mother Jones,
Esquire, ProPublica, Inc. Magazine,
Mashable,
The New York Times, Wall Street Journal, USA Today, The Intercept, Rolling Stone, Sports Illustrated,
among others. She has been recognized by UNICEF, Photographer of the Year International, the National Press Photographers Association's Best of Photojournalism, the Atlanta Photojournalism Seminar, the Southern Short Course, the Casey Medals for Meritorious Journalism, and the Alexia Foundation student grant. She is currently president of the NPPA. Contact her at
[email protected]
or (813) 215-8329. Follow her blog
www.melissalyttle.com/blog
.
Want the scoop behind the story? Listen to WriteLane.
Pulitzer-Prize winning reporter Lane DeGregory discusses her stories and answers your questions in a weekly podcast.