Farm to Fable
How to tell if your 'local' food is actually local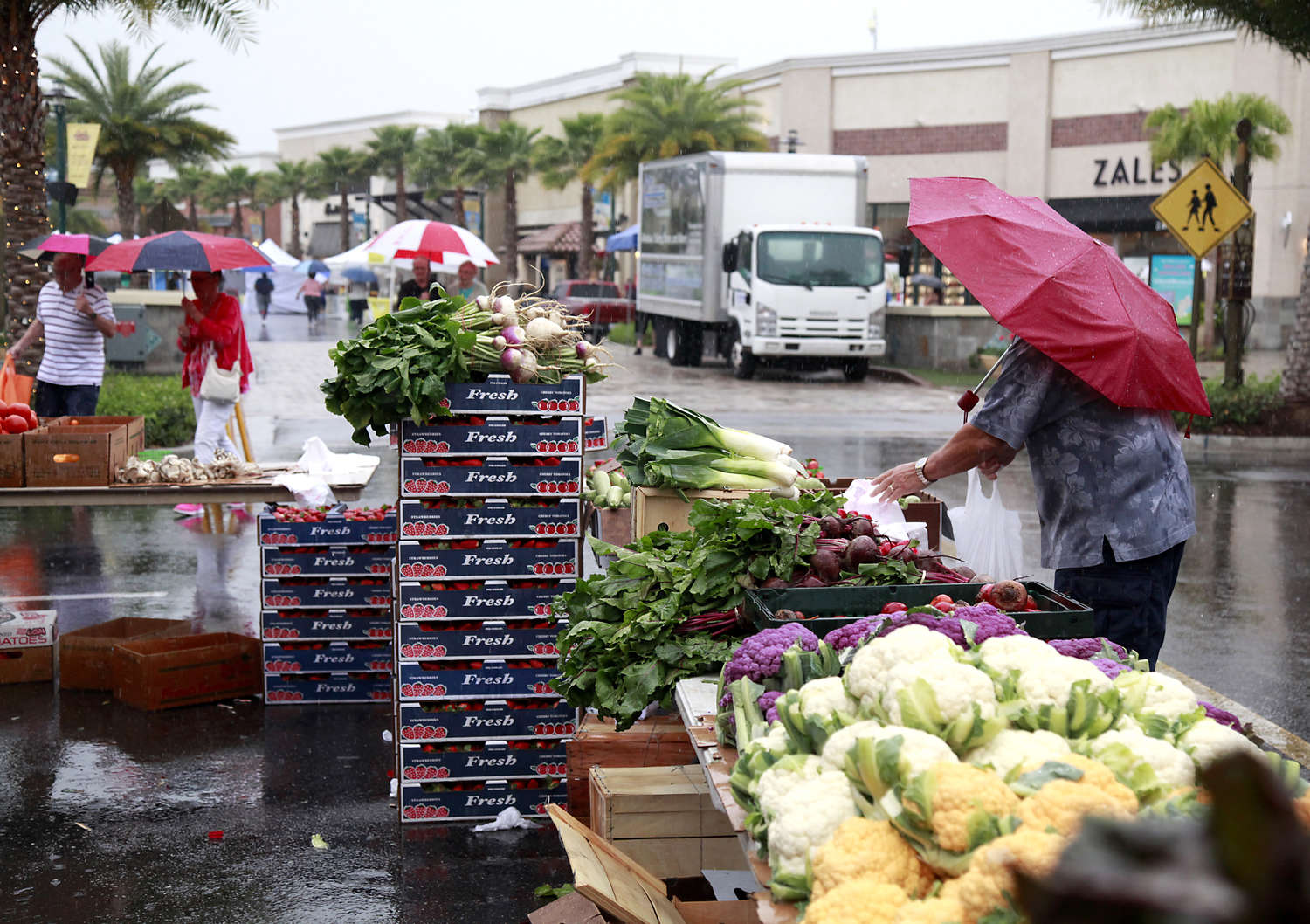 People are being duped. Some restaurants, grocers and outdoor markets routinely misrepresent the nature of the foods they sell. So what are you going to do about it?
Arm yourself and fight back.
You need to know what grows here and when. The University of Florida's Institute of Food and Agricultural Sciences debuted a new downloadable application in February. Geared more toward the backyard gardener, the Florida Fresh veggie app, available at m.ifas.ufl.edu, will tell you what to plant, when, according to your zip code, but also the seasonal availability of Florida-grown produce. What to buy right now? The app says broccoli, blueberries, cabbage and star fruit. If you see "local" asparagus or apples, that's a red flag. Those things generally don't grow in Florida.
There's no consensus. On its website, Whole Foods says, "Well, mostly we like to leave it up to our stores. Generally though, we try to use state lines." Publix defines local as products that come from the six states within which the stores are located (Florida, Georgia, Tennessee, Alabama and North and South Carolina), whereas Safeway has described it as food from within an 8-hour drive. The federal 2008 Farm Bill defined it as a food that is marketed less than 400 miles from its origin; the federal Agricultural Act of 2014 did not provide a definition.
If a market or restaurant is making "local" claims, ask the manager or chef precisely what that means. Caveat emptor: Eating locally means eating seasonally, which frequently means relying on a more limited repertoire. "Americans want farm-to-table local, but they want the grocery store experience," says Emily Rankin, who supplies restaurants with farm food via her company Local Roots. "Those two things don't match."
COOL: A vestige of NAFTA, for now Country of Origin Labeling is still in effect. It's very basic. In grocery stores, supermarkets and club warehouse stores, it is required that fresh and frozen fruits and vegetables, meats, fish and shellfish, many nuts and ginseng be labeled with basic information about the country in which it was produced.
Outdoor markets, roadside stands and other venues are not required to comply with this. Feel free to ask. Be insistent, and don't hesitate to scrutinize boxes under a vendor's table or on the truck. Box labels may give a more accurate accounting of food's provenance.
Certified organic: There are more than 18,000 certified organic operations in the United States, an estimated 370 of them in Florida. If something has the U.S. Department of Agriculture organic seal, it means that crops cannot be grown using synthetic fertilizers, synthetic chemicals or sewage sludge; they cannot be genetically modified or irradiated.
However, if a farm or business' sales are $5,000 or less per year, it is considered an "exempt" operation and doesn't need to be certified to sell, label or represent its products as organic.
The National Organic Program (NOP) is a regulatory program housed within the USDA. According to Marty Mesh, Florida Organic Growers executive director, his organization does unannounced inspections, unannounced pesticide checks and they purchase produce for spot testing. Violations carry a fine of up to $11,000 per violation; the total amount of civil penalties levied in the U.S. in 2015 was $1,872,815.
Don't get hung up about certification, some farmers say. Jim Kovaleski started Freedom House Farm eight years ago and farms four front yards in New Port Richey. Ask regional farmers if they are using organic practices, he says. Local trumps certified organic.
Meat: All meat and poultry sold commercially must, by law, be inspected. It should have a USDA seal of inspection and a code for the producing establishment. "Prime" is the highest grade beef, just a small percent of all graded beef and available mostly in fancy restaurants and upscale grocers. "Choice" makes up two-thirds of all graded beef and is generally less marbled than prime.
"Naturally-raised" meat is a USDA verified claim describing meat from an animal raised entirely without growth promotants or antibiotics and that has never been fed animal byproducts. In the trade, this is often referred to as "Never Ever 3."
There is also a subset of naturally raised meat certified by the USDA organic label. These animals must have access to pasture, in addition to the requirements above. So, all organic beef is naturally raised, but not all naturally-raised beef is organic.
While in a sense, every cow and steer is grass-fed (after weaning, nearly all cows graze on grass), beef labeled "grass-fed" means that the animal has received 100 percent of its energy outside of weaning from grass or forage, and not from grains such as corn. This does not tell you if antibiotics or hormones were administered.
Fish: Seafood is much less regulated than meats, and thus misrepresentations happen more frequently. For instance, 70 to 80 percent of the grouper you see in Florida markets and restaurants is from Mexico, according to Bar Harbor Seafood salesman Andy Swank. "It's strictly a price point thing. Seventy percent of domestic grouper goes to Canada because they're willing to pay for it."
Pay attention to precisely what something is called, says Katie Sosa of Sammy's Seafood. See "domestic grouper" on a menu and it means it's local, from Florida. See "Gulf grouper" and it's much more likely to be Mexican, more problematic in terms of quality, worker pay and fishery management.
And if you see "fresh shrimp" on a menu, raise one eyebrow high.
"The word 'fresh' is not right," explains Gary Bell of Madeira Beach Seafood. "There's almost no shrimp that's fresh. These are million-dollar boats and when those shrimp are caught they're frozen right on board and graded right there."
To choose fish ethically, the Monterey Bay Aquarium's seafoodwatch.org has been a resource for years, with a downloadable app and state-by-state consumer guides. And if you see something "fishy," file a complaint with the Florida Department of Business and Professional Regulation by visiting myfloridalicense.com.
"Why are we seeing more and more nutritionally related diseases?" asks Mesh. "Our methodologies for both production and processing of food are killing us."
And in the past few years, food-borne illness crises seem to be coming at an alarming rate. The Centers for Disease Control and Prevention offers a number of resources. Worried about norovirus or salmonella? Head to cdc.gov and forward slash listeria or whatever your concern is. Have a broader interest in food-borne problems? Navigate to the CDC's FoodBorneOutbreaks page.
More broadly, there are websites that pay attention to our food supply: grist.org; foodsafetynews.com; thefoodwatchdog.com; usfoodpolicy.blogspot.com; politicsoftheplate.com.
"All of these people claiming to support the local farmer: you basically need to trap them in their own words. Can I see your last invoice? Show me your documentation." — Jim Wood, Palmetto Creek pork
"I tell customers to try to do business with a farmer, not with a broker. If I was a customer, I'd want to go see the animals. Ultimately that's what needs to happen."—Tom Siverson, Pasture Prime Family Farm
"There are a lot of resellers saying 'this is local and organic.' The best thing (you) can do is go out and visit the farms. Make that connection. And always ask if it's locally grown. Build real relationships with the people who make your food." — Emily Rankin, Local Roots
Consumers have to do it, because Big Ag's thumb is on the scale. Grocers and restaurants want to buy low and sell high. Small farmers don't have lobbying resources.
"Farmers don't want to be perceived as the junkyard dogs," explains Joel Salatin of Polyface, a farm in Virginia. "We tend to not like controversy. The tractor never argues with us."
Contact Laura Reiley at [email protected] or (727) 892-2293. Follow @lreiley.