End of Watch
"One family! One fight!"
A van is driving in from the west; a car is speeding from the east; a school bus is coming from the north, blinking its lights to turn left.
Four lanes of traffic cross here — and the light has been turned off.
The only thing keeping the vehicles from crashing is a cadet in a neon yellow vest.
He blows his whistle, one long blast, holds up his hand toward the bus.
"Watch that van behind you!" KeVonn Mabon shouts from the curb. "Man, it's confusing out here. You gotta have 360-degree coverage and think like a stoplight."
It's the end of January, and the recruits from the St. Petersburg police academy are at the corner of 22nd Avenue S and 22nd Street, learning how to direct traffic. Everyone has to stand in the road for five minutes.
Putting them out there, a coach says, "is terrifying."
"Make sure they can see you," he calls to the cadet. "You gotta get out there in the center of the intersection more."
The instruction is brief: One long whistle means stop. Two short tweets mean go. Get the drivers' attention. Show them what you want them to do. Keep your head on a swivel. Don't cause an accident. Don't get killed.
"You're going to have to address each car, because the driver in the car behind it might not see your hand signals," says the coach.
Mabon strides into the intersection, adjusts his vest, plants his feet shoulder-width apart. For the first couple minutes, cars only come from opposite directions; he waves them straight through.
Then someone driving in from the east wants to turn left. "Exaggerate your motions," shouts the coach.
Mabon waves with his right hand, stops with his left. A tow truck rolls by, then a car with a dog. When two cars come in from the south, side-by-side, he stops the east-west traffic to let them turn. "Nice!" shouts the coach. "Good job keeping the side streets moving."
"Hey, Mabon!" calls one of the recruits. "I hope to be like you when I grow up!"
When it's Brittany "Mama" Moody's turn, she slides on dark sunglasses. She forgot her whistle, which she had taken to her son's basketball game. She's coaching his team now.
"That's okay, the whistle is optional," the coach says. "Now go get 'em."
Each cadet develops their own style in the street. Mabon mimics a referee's motions. Instead of using her whole hand, Moody points to drivers with two fingers.
"Good job! Great! But be careful!" calls the coach. "Just because you put your hand up doesn't mean they're going to stop."
A man in a silver Nissan honks at one recruit. A woman in a sedan waves and shouts, "Thanks for being here!"
An hour later, traffic picks up. Hannah Anhalt had wanted to wait, watch her classmates, build her confidence.
"You look scared," Mabon tells her. "Just go out there and get it over with." He fist-bumps her. "You got this!"
She stands beneath the stoplight, motions with her right arm above her head, then swoops her left hand across her waist, waving on a pickup.
"Looking good out there!" calls the coach.
Later, Anhalt admits, "It wasn't that bad." Directing traffic, she says, "will be the least of my worries."
---
●●●
Graduation is only a couple of weeks away. Then the recruits have to pass the state test.
After that, they start training with the agencies that hired them. They'll spend at least four more months shadowing "field training officers," going to accidents and incidents, working the radio and writing reports.
Even if all of them make it through the academy, another 40 percent don't make it through that next phase, when every day a senior officer rates them on appearance, communication skills, problem-solving, reactions — 36 aspects of their performance.
They really need a year of training at the academy, says one coach. The others agree. "That's why law enforcement officers get in trouble. They under-train and overreact, go for their guns."
In Florida, basic training for police officers was authorized by the Legislature in 1967 and began the next year. It then featured 5 weeks of sessions.
The state changes training standards often but not the length of the academy. As the Legislature adds requirements, there is "the possibility of an increase in hours in the near future," said Jessica Cary of the Florida Department of Law Enforcement.
This month, the state curriculum will add 24 hours of communications training and teach recruits about using "emotional intelligence and empathy as tools … responding with professionalism and empathy to people who appear different from oneself" and how to interact with people who fear police.
The next class of cadets just started — the biggest yet, with 32 recruits. The class includes 11 women, 5 minorities, people from six countries and, surprisingly, two men in their 50s.
When Coach Joe Saponare asked why they enrolled, they echoed the current cadet class: To serve my community, be a leader, because my dad was a cop. Several had been in the military. During the pandemic, some wanted "an essential job."
"I grew up in a household of really terrible criminals and got out at 18," says a woman from Largo. "I want to help people like me."
"I grew up watching a lot of Robo Cop," says a guy from Clearwater. "I want to be part of that."
A man from Tarpon Springs says, "If change is possible, I want to be that change."
---
●●●
Over the last year, the Minneapolis City Council pledged to dismantle its police department, New York lawmakers opened officers' disciplinary records to the public, and several states banned chokeholds.
Florida legislators recently approved new standards to limit the use of chokeholds.
And around Tampa Bay, law enforcement agencies changed training and policies. Some departments now make officers wear body cameras; some send social workers on non-violent calls. Several added training on defensive tactics, de-escalation and mental health.
The state now investigates all officer-involved shootings in Tampa and Hillsborough County. In Pinellas County, a new task force investigates any "use of deadly force."
And most agencies added a "Duty to Intervene," requiring officers to prevent or report wrongdoing by co-workers.
---
●●●
The recruits are quiet, for once. It's the day before graduation, and they're finishing lunch in the classroom. Normally, they'd be joking around, making the youngest do push-ups.
Today, it's starting to sink in that they're almost done. Some will stay together: three in Clearwater, four in St. Petersburg, 14 at the Pinellas County Sheriff's Office.
Their class started with 30 members. The 23 who stuck it out bonded so well they chose the slogan, "One family! One fight!" for the flag they'll leave as a legacy.
"No tears," Mabon tells a female cadet, who is sniffling. "My gun is hot, so don't make me use it!"
Over the last couple of weeks, they learned to make traffic stops, and that they'll pull over an average of 500 cars a year. "Always touch the vehicle." If the driver races off, there will be evidence for later.
They learned to investigate accidents. "Measure the skid marks, draw a diagram."
They learned to test people for drunken driving. "If the ladies have heels on, let them take them off before you make them walk in a straight line."
They reviewed for the final exam, defining probable cause, proof beyond reasonable doubt, aggravated battery. They went over voyeurism, molestation, elder abuse. What to do when you show up at a carjacking, home invasion, dead baby. How to deal with runaways, computer crimes, meth labs, biological weapons, Nigerian scams, swarms of insects.
"If the subject is urinating against a building, that's disorderly conduct. If he turns around to face the street, it's indecent exposure."
This afternoon, as they're cleaning up from lunch, the academy director comes in and stands by the podium. "Congratulations!" Michael DiBuono tells the cadets.
He asks about their experiences, what they would change about the academy.
"We need more tactical gear to train in, sir," says a former soldier.
"More ride-alongs in the field," says another.
More walkie-talkie training. More driving. More days in the mat room.
"Yeah, I want to add furniture in there, too," DiBuono says. "You guys need to learn to fall over couches, into glass coffee tables."
Mabon wants more time talking to strangers. "We go through all these intense scenarios, but that's like 1 percent of all we do," he says. "We need more interaction with real, random people. Those 15 minutes at Walmart weren't nearly enough."
As tough as the physical training was, Mabon and Moody say there should be more. Coaches, they say, should be tougher on slackers.
"I don't want someone to be my backup who barely skimmed by in the PT here," Moody says.
Cheaper, healthier food for the cafeteria, someone says. Roaches out of the locker room. Hot water in the showers.
When everyone finishes their suggestions, Moody raises her hand. "Every suspect in the scenarios," she says, "was a Black male."
The room falls silent. The director looks at the ground, then out at the cadets. "I don't take that lightly," he says. "We shouldn't base crimes on someone's ethnicity. I'll take care of that."
"One more thing," says Moody. "We could use a more diverse group of instructors. More women, people of color."
The director stretches out his arm. "Will you come back and teach with us?"
Moody smiles. "Absolutely."
---
●●●
On their last morning at the academy, the recruits line up outside, shoulder-to-shoulder around the flagpole, like they always do. A recorded bugle pipes revelry through a speaker. The sun shines low in a cloudless sky.
Moody carries the Florida flag and marches in step with four classmates, one cradling an American flag. While they raise the banners, the cadets salute.
A broad-chested recruit calls for a moment of silence, like he always does, to honor an officer killed somewhere in the country, often years ago.
This time, though, it's one of their own.
"Now, let's all bow our heads," says the cadet, "for the deputy who lost his life in the line of duty last night."
Moody closes her eyes, imagines her son waiting for her to come home.
After the recruits march back into the building, recite the levels of force and code of ethics, she walks to the front of the room and unfolds a piece of paper. She didn't have to do this, but she wanted to. Looking out at her classmates, she says, "End of Watch."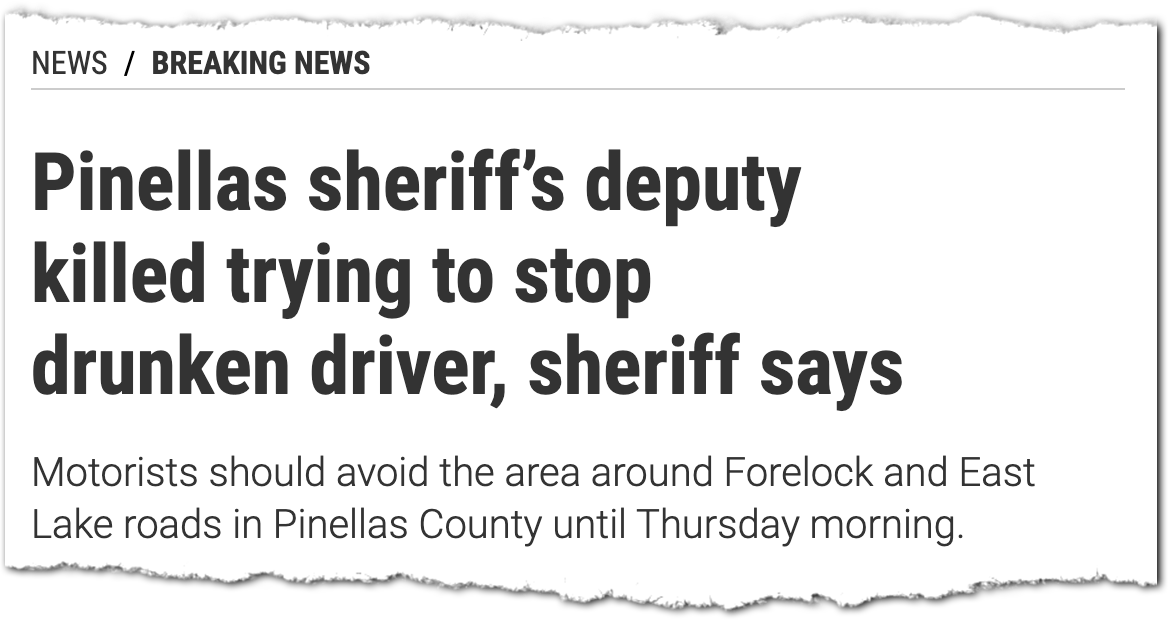 Then she clears her throat and begins to read: "Pinellas County Deputy Michael Magli was killed by a drunk driver who fled at a high rate of speed on East Lake Road. The subject was passed out inside his vehicle and when paramedics broke the window, he suddenly awoke, accelerated, and crossed the median into oncoming traffic. Deputy Magli was preparing to deploy stop sticks when the driver lost control, overturned, and struck him."
A week later, she would have been working with Magli.
"He was 30 years old," she says shakily. Even younger than her. She folds the paper, swallows, lifts her glasses to wipe her eyes. Her classmates have never seen her cry. "He is survived by his wife," she says, choking on her words. "And two young children, including a daughter who isn't even a year old."
A coach comes to her side.
"What happened yesterday was tragic. But it happens. You gotta get back to work," he tells the recruits. And he offers perspective: In 109 years, "that's the first deputy Pinellas County has ever lost."
Later, while a coach runs the cadets through a review for the final exam, Moody rushes from the room, out of the building. She lowers the flags to half-staff.
---
●●●
"All right, everyone line up! Time for the final fist-bump," Mabon calls a half-hour before graduation.
"Why do you keep saying final?" asks Moody. "This is really the beginning."
They're in the classroom, taking selfies and group shots, dressed in new uniforms: Anhalt, in all black for Clearwater; Moody and Mabon wearing the sheriff's forest green.
The youngest recruit, who barely passed the physical training, still has on his academy uniform. He's the only one who hasn't been hired.
"I'm so nervous," says Moody, who seldom gets nervous.
Her classmates selected her to be their graduation speaker. She practiced her speech several times but keeps thinking of more to say.
Over the last six months, they've all learned so much — about policing, the world and themselves.
Mabon, the consummate team player, says he now knows he can't trust everyone, not even all his classmates. With his life on the line out there, he says, "There are certain people I wouldn't want to be paired with. You can't count on backup. You gotta be able to fix things on your own."
Anhalt, who initially doubted she could do this, sees herself differently now. "I don't question myself so much," she says. "I'm no Mabon. But I'm so much more confident and capable than I thought I was."
For Moody, it's all about her son. Now, she's so much more scared that something might happen to him. She shares the biggest fear of all parents, compounded by what she now knows police face.
"I think about him all the time, especially when we do stuff like school shooting drills," she says. "Where should I tell him to hide? How can I help him if he's in Hillsborough and I'm working in Pinellas?"
They file into the hall and line up in alphabetical order. One cadet steps forward, salutes a coach and barks: "23 signed, 23 present, sir! Forward, march!" The cadets turn so their right shoulders are against the wall and, for the last time, fall into step. "Left, left, left, right, left!" Their boots thud heavily, new guns bounce against their hips.
In the auditorium, Coach Sap talks about their tenacity, willingness to tackle new technology, the way they came together. "Family means you never give up on each other," he says.
Anhalt's academic score ties for second-highest. Mabon wins the coaches' award for leadership and athleticism.
Moody starts her speech strong. "Today, we stand in front of you as brothers and sisters, united for a common purpose in a time of too many injustices to count." Soon, she has to pause because she can't read through her tears.
As they cross the stage to get their certificates, their families film them. Anhalt's dad, stepmom and fiancé are in the front row. Moody's mom, girlfriend and son are a few chairs back. In the corner, by the door, Mabon's coach from pee-wee football sits with his wife, clapping.
They're all proud of the recruits. And terrified about what they're getting into.
Afterward, officers from several of the agencies shake their hands and welcome the cadets to the thin blue line. The Pinellas sheriff couldn't come, because of the officer's death the day before. But he sent someone to give the new deputies their badges.
Silver stars. Each bears a thick, black band.