Bloody Friday
"You change when you become a cop."
In a gravelly patch of grass behind the shoot house, Coach Joe Saponare is sprawled on his side, wearing a Bud Light T-shirt. His eyes are closed. A rubber tube is wrapped around his left arm, which stretches above his head. In his right hand, there's an empty syringe.
"Is he dead?" a cadet asks.
"You don't know," says another coach. "A passerby in a car called in a suspicious person beside a building, looks like he might be drunk or on drugs. That's all they told dispatch."
The recruits are in teams of three. On this January morning at the St. Petersburg police academy, Brittany "Mama" Moody takes the lead. She kicks the syringe out of Coach Sap's reach, then kneels by his head. KeVonn Mabon pulls on blue gloves from his medic bag. Hannah Anhalt stands over him and says, "I'd call EMS right away."
"Yes!" shouts another coach. "There's no Narcan for you guys. But EMS has it. Watch out, though. When you hit 'em with Narcan, they go from coma to freak out. As soon as they're alert, they might want to stab you with that needle."
Anhalt kneels by Coach Sap and starts doing chest compressions. Moody leans over his face and pretends to blow air into his mouth. Mabon fake calls for emergency medical assistance. Another coach hands him a dummy with red and yellow wires streaming from two flat panels: a training model of a defibrillator.
"Prepare to shock!" shouts that coach. "It's like jumping a car battery."
Coach Sap pops up from the ground.
"You guys did awesome!" says one coach. "Good team dynamic."
But Coach Sap has a few corrections. They didn't secure the scene. Someone could have been in that alley, out to get the guy who overdosed — or them. One of them should have been a lookout.
And they should have put the syringe in a plastic bag. That's evidence.
"After we make sure you're okay, do we arrest you?" Mabon asks.
Coach Sap laughs. "Not unless I have a kilo on me."
He loves these scenarios, seeing how the recruits will respond.
For months, they've been focused on saving themselves. This week, they're learning how to save others.
Police are often first on the scene, so they have to know basic life-saving skills and when to call an ambulance. They carry bandages, gauze, a wool blanket.
They practiced dislodging an object from a baby's throat, checking for someone's pulse, giving CPR: 30 chest compressions, two breaths. Coach Sap taught them to count to the rhythm of Stayin' Alive. But the cadets didn't know that song from the '70s.
This afternoon is "Bloody Friday."
Coach Sap is about to get caught on a fence, stabbed in the leg, shot in the arm …
---
●●●
Saponare is 49, in better shape now than when he was on the force. He's proud he can keep up with the cadets and feels lucky that he gets to wear gym shorts to the office. He slicks back his dark hair, walks fast and talks quickly, with a slight Jersey accent often punctuated by a laugh.
"In this job," Coach Sap tells recruits, "you gotta remember to laugh."
At the academy, he runs four law enforcement classes, an average of 120 students per year. He tells them he has an evil twin. One minute, he's offering advice and encouragement. The next, he's "smoking" them for not shining their shoes, making them write an essay or run an extra mile. His mission is to push the meek ones to be more forceful, dial back the military guys' gusto.
As the public safety department coordinator, he also oversees training for corrections officers and cops from other states who want to work in Florida. He orders equipment for the gym, mat room, rifle range, interviews new cadets and tracks their test scores, and supervises the instructors.
Coach Sap's first-floor office is obsessively neat: stacks of papers all perfectly squared. Taped around his desk are quotes like: "Embrace the Suck," and "Be Polite. Be Professional. But Have a Plan to Kill Everybody You Meet."
There's a life-size poster of Chase Utley, his favorite Phillies player; a plaque from when his SWAT team won unit of the year; three flags, gifted to him by his three favorite classes.
His most prized possession hangs by the door: A framed newspaper article featuring photos of four generations of his family under the headline: True Blue: Why Police Tradition Runs in Families.
"My great-grandfather came over from Italy, became a Camden cop. He was so good he could retrieve a fingerprint from an orange," said Coach Sap. "He always told my dad, 'Everyone struggled during the Depression, but I had a job.' My grandfather was a firefighter. Dad also was a cop, for 43 years. He'd take me to the station, to the shooting range, on inspections. I thought that was cool. I loved Starsky & Hutch."
In high school, he played football and hockey, hoped to go pro in baseball. "I was good," he said. "But not good enough."
His dad made him go to college: Rutgers, political science. Afterward, inevitably, he enrolled in the police academy. Back then, coaches didn't run scenarios. Training lasted 16 weeks — six weeks fewer than his cadets get now. Few women applied.
He met his wife while he was a patrolman, "working 8-hour shifts and you're done," he said. He's not sure she knew what she was getting into but says she never complained. "At least not to me," he said. "Maybe she'd vent to other cops' wives, but she always stood by me." Even though he worked 6 p.m. until 4 a.m. and almost never was home to put their two daughters to bed, even when they were at parties and he'd have to leave, even when they'd go looking at Christmas lights and he'd be so distracted, waiting for a call, that he wouldn't remember their drive.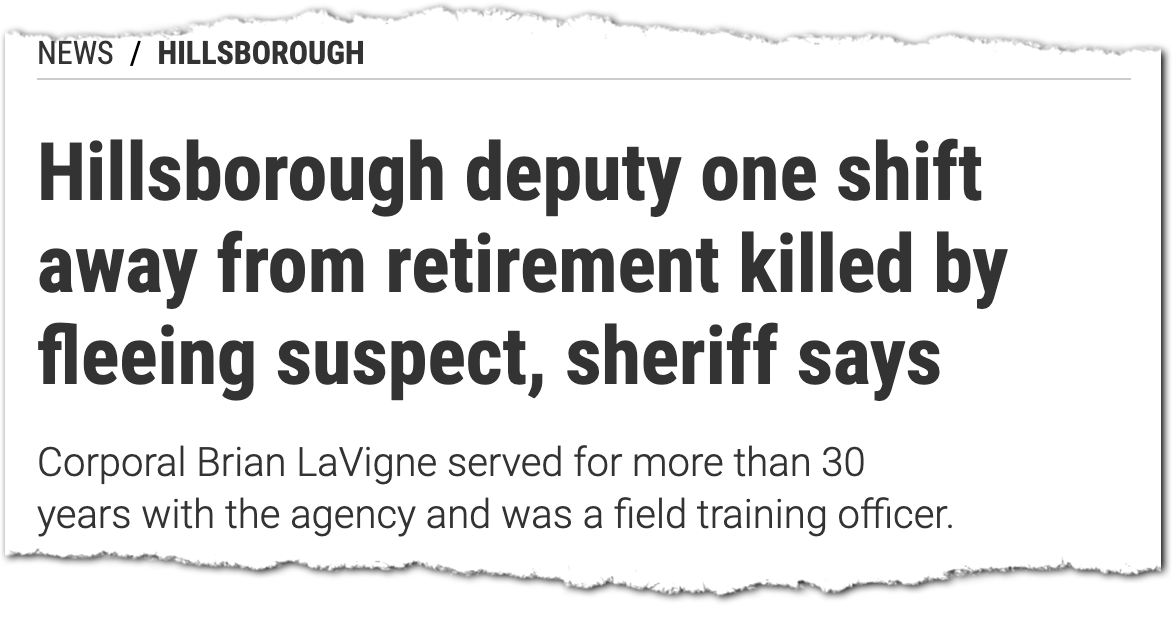 For 12 years, he carried a shield for the SWAT team, the Special Weapons and Tactics Unit. He says it stands for: Sit, wait and talk. He loved the trenches, the camaraderie, the action. "Bringing people to safety," he said. "You can't beat that."
He watched a couple friends get stabbed and shot. But he never really got hurt, never thought about quitting, always enjoyed the rush of showing up at a scene.
In 2011-2012, he was inspector of Camden police, overseeing 300 uniformed officers, when the city set a record for murders: 67. Citizens complained about the crime rate, open-air drug markets, police corruption. Lawsuits alleged that officers planted evidence, fabricated reports, lied.
"There were officers infamous for pinning drugs and guns on people," he said. "One whole squad, six of them went rogue, and went to jail. But not my guys. We were the good guys. We got thank-you notes. One woman baked me a sweet potato pie."
He was never accused of wrongdoing, instead honored for his service. But by the next year, public outcry had convinced officials to obliterate the entire department — the largest city to date to have done that.
The county took over policing, hired half of the city officers and asked Saponare to help retrain them. "We broke the barrier with the community, got out of our cars and went back to walking beats, riding bikes," he said. "We put 'eye in the sky' cameras all over, so the community could help watch the streets, help us police. … We started to turn the public support around."
Officers went from having a "warrior mindset," he said, to thinking of themselves as "guardians of the city." Crime rates declined.
"You can't just defund the police," he said. Instead, officers need more training and tools, recruits need to learn how to engage with people. He makes cadets give daily presentations on some aspect of law enforcement, so they'll get more comfortable with public speaking.
In 2013, he worked for the county. The next year, he'd put in 20 years, so he retired.
He taught at a vocational school, did security for a while, hated both jobs. When his wife wanted to move to Florida, he called a friend who worked at the St. Petersburg police academy. When that friend retired in 2018, he became Coach Sap.
---
●●●
He is nostalgic for the days when cops got more respect. But he knows police have long struggled with public perception.
In 1829, almost two centuries before last summer's protests, a British officer named Sir Robert Peel became known as the "Father of Modern Policing." His vision for law enforcement foreshadows the recent demands for reform, and influenced the changes in Camden, N.J.
The goal of law enforcement, Peel said, should be to prevent crime, not catch criminals. "The test of police efficiency is the absence of crime and disorder," he wrote.
He recognized that, for police to do their jobs, the public has to trust them. That is earned, he said, by enforcing laws impartially, by hiring officers who represent and understand their community and by using force only as a last resort.
For Coach Sap, the biggest shift in public opinion came in 1991, after Los Angeles officers beat Rodney King, someone recorded it, and the world watched. Now that everyone has a cell phone, he tells cadets, everything you do could be captured on video.
And the current class will be among the first whose agencies require them to wear body cameras — which could protect them from false accusations, or record them incriminating themselves. "They hold police accountable, which is good," Coach Sap said. "But videos the public sees only show snippets of what happened. If you're going to judge on that, you have to see the whole scene unravelling."
He worries that new officers will hesitate, afraid to be judged or accused.
"In my time, you didn't resist police," he said. "If you did, there was a set course of action. Now, instead of forcing them into handcuffs, you have to talk them into letting you put them on."
When he was on SWAT, he helped set perimeters before storming into an active shooting scene. Now, someone on the team runs in right away — "rapid deployment" — to minimize lives lost.
"In my day, if you had to shoot someone, you went right back to your job," he said. "Now you get 72 hours and have to go see a psychologist."
Instead of arresting people raging with mental illness, cops are supposed to help calm them down.
Some agencies now have a no-strike rule, meant to avoid physical contact. Some give officers pepper spray, Tasers or batons, so they can reach for something other than a gun.
The biggest improvement in training, Coach Sap said, has been running recruits through the scenarios. This is also the first class that gets to practice in virtual reality.
A state grant helped the academy purchase a $250,000 VirTra — which immerses recruits in 300-degrees of 3D, IMAX-like action. Using a laptop, coaches can simulate 300 situations the cadets might face and make them happen in real time.
A recruit stands in the middle of five towering screens, gun holstered. Soon, a virtual homeless woman charges with a knife. In other scenarios, a man with an automatic weapon storms a state capitol and bleeding students race through a school library, screaming for help.
When the cadets draw their guns and fire just right, the "bad guy" on the screen crumples to the ground. If they miss, he keeps coming. Sometimes, they get shot — a zap from their gun belt that leaves a red welt on their hip.
Only one other academy in Florida has the technology, which was made for military training. "We can expose them to so much more," Coach Sap said.
His oldest daughter is 22, the same age as some of his recruits. But he would never want his kids to become cops. Especially now. "The perception of law enforcement is so negative now. It's more dangerous," he said, shaking his head. "Besides, they're both such girly girls."
What about him? Would he join now?
"That's a tough question. I have such a passion for it," he said, pausing. "But I don't know if these recent events would quash my passion."
---
●●●
Envision this, Coach Sap told the cadets: A Camden woman decapitated her 2-year-old son, then called 911. By the time police got there, she had put the toddler's head in the freezer — and fatally stabbed herself.
He showed them the crime scene on YouTube. Two of the recruits looked away.
"We try to prepare you for everything," Coach Sap said. "But how can we prepare you for that?"
He let the silence linger.
Coach Sap seldom teaches in the classroom, preferring to lead physical activities. But one afternoon, he told them about some of his worst calls, then walked them through a PowerPoint called The Law Enforcement Culture.
Another video, another crime he was called to in Camden: A man was raping a 12-year-old girl and her younger brother, who was 6, tried to stop him. The man slashed the boy's throat, then ran.
"We had a manhunt for that guy from 4 a.m. until noon," Coach Sap said. "We kept searching empty buildings, finally found him in a rental house. He got 110 years."
He asked how many cadets were married: Four. "Well 70 percent of officers' first marriages end in divorce," he said. For second marriages, the failure rate is 85 percent.
"You change when you become a cop," he said. "You have to be able to turn that switch off and be normal, find outlets."
He fired off statistics.
"In the U.S., every 22 hours, a cop commits suicide," he told them — a higher percentage than the rest of the population.
"You can care, but you can't save the whole world," he said. "You're going to get frustrated, stressed, fed up with the criminal justice system. Don't start drinking. That only makes things worse."
The cadets looked stoic, not visibly reacting. But Coach Sap hoped the message sank in. He wants them to know what they're signing up for, to scare them.
No one knows how they're going to respond to trauma, Coach Sap said. "I had one friend who used deadly force and wanted to come back the next day," he said. "Another just shot at someone, didn't kill him, but he couldn't come back. It shook him to his core. He started drinking, doing drugs, weed, coke. He became someone else. Now, he moves furniture."
He wants them to learn from the mistakes of others. He remembers every time he screwed up and enjoys cautionary tales.
August 2004: He and his partner had arrested a guy, put him in handcuffs and thrown him in the back of the cruiser. They didn't get in the car with him. "We were joking and smoking," Coach Sap told the cadets. All of a sudden, the cop car sped past them. "The suspect slipped the handcuffs, crawled through the partition and drove away," he said. "Don't relax too soon. It's not over until he's in a cell."
---
●●●
In a parking lot beside the shoot house, Coach Sap is on his back beside an old school bus, his legs bent to one side, holding a gun, screaming, covered in fake blood.
"Officer needs assistance. He just got attacked by a dog. He can't walk. He's bleeding," a coach calls. "He shot the dog."
Mabon kneels beside Coach Sap. Anhalt gently asks for his gun. Moody calls EMS. Again, no one secures the scene.
The whole time, Coach Sap is moaning, blood spurting from his thigh. It looks real, dark and viscous, running down his leg and pooling on the pavement. No one tries to put pressure on the wound, or bandage it.
Suddenly, Coach Sap goes quiet, closes his eyes.
"What are you doing? Do something. You're letting one of your own fellas bleed to death!" shouts a coach. "It only takes 90 seconds to bleed out. Hurry!"
Mabon pulls a tourniquet from his medic bag, slides it over Coach Sap's thigh. "Check his pulse!" he yells.
"He has a weak pulse," the coach says.
"Sir," says Anhalt. "Sir, are you okay? Can you open your eyes?" She's the only one who talks to Coach Sap. When he doesn't answer, she starts CPR.
"What are you doing?" yells a coach. "Why are you doing CPR?"
He's not having trouble breathing, just losing a lot of blood.
"Prop up his feet," says Mabon, tightening the tourniquet. Moody does.
"Okay, I'm EMS now. What do you got?" asks the coach. "Okay, I see the injury to the leg. What else?"
The three cadets look at each other. Mabon finally says: "Nothing. Well, nothing that I know of."
"Did you check?" screams the coach.
Mabon says softly, "Nooo … "
"Well check! You gotta check! Talk and move at the same time. Roll him over. Be careful. That blood is slippery."
The imaginary ambulance gets there too late.
As the three cadets walk back to the shoot house, the next group gears up for their scenario. Coach Sap stands up, grinning, gravel caked on his arms and legs. He's ready for more blood. And he wonders: What else can he do to get these recruits ready?
Graduation is only a month away.
Editor's note: An earlier version of this story quoted a paraphrase, not the exact words, of Robert Peel's principles.